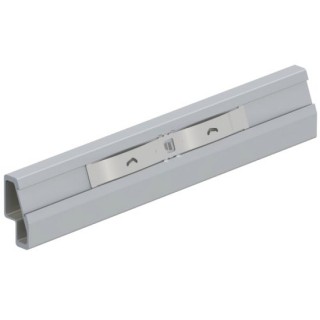 IronRidge XR100-BOSS-01-M1 Bonded Structural Splice
BOSS, For XR-100 Rail, Tool-Less, Mill, Qty. 1
---
Item # 1340-210
---
IronRidge XR100-BOSS-01-M1 Bonded Structural Splice, BOSS, For XR-100 Rail, Tool-Less, Mill, Qty. 1
Rule your XR Rail
The XR100-BOSS-01-M1 BOSS™ (Bonded Structural Splice) provides a truly seamless, hidden connection for XR-100 Rails. The built-in bonding springs have teeth that bite inside the rail, creating a bonded rail connection that meets all UL standards without any extra tools or hardware. In addition, the BOSS™ eliminates installation restrictions around splice locations by allowing you to place it anywhere along the span, except the outside cantilever.
Features
Strengthened XR Rail Connections
The BOSS™ is strong—eliminating restrictions, such as installing the splice on interior and end rail spans. This means that spliced rail can be used more freely and allows you to save on system costs. It also means fewer steps and frustration around planning the proper splice locations.
Integrated Bonding Teeth
The built-in bonding spring has teeth that bite inside rail while providing an easy connection that requires little force or hardware. NOTE: For 100+ feet of rail, be sure to leave a 1" gap—still close enough for teeth to fully engage (no straps needed).
Centered Stop Tab
A physical stop provides tactile feedback allowing you to properly center the splice between two rails. Also, alignment circles on either side will guide you to where to align the splice for 1" expansion gaps.
The BOSS Installation
The specifications document is loading.
Generally all of our products are in stock and ready to ship within 2 business days.
If an item you ordered is out of stock, we will contact you within 1 business day with an expected ship date. You will then have the option to accept the new ship date or cancel your order.
Either way, we guarantee your card will never be charged until your order ships.