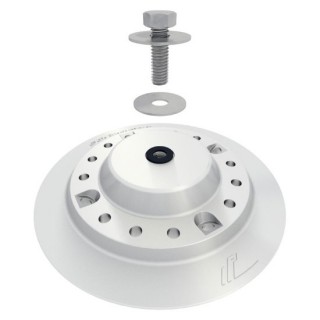 IronRidge FRA-BASE-01-M1 Flat Roof Attachment Base
With 3/8" X 1.25" SS Bolt and Washers, Mill Finish, Qty. 1
---
Item #

1330-093
---
IronRidge FRA-BASE-01-M1 Flat Roof Attachment Base, With 3/8" X 1.25" SS Bolt and Washers, Mill Finish, Qty. 1
Low-slope roofs (0-6°) are extremely common in residential and commercial buildings, but the roof construction and the structural system below them vary significantly, often creating a challenge for designing solar arrays. IronRidge has developed the Flat Roof Attachment which combines a high-strength cast aluminum base or FRA-BASE-01-M1 with a 16-point fastening pattern to enable the widest range of design options on low-sloped roofs. An added bonus is that it is compatible with most common low-slope roofing materials ensuring a system that is easy to integrate down to the deck.
Features
BUILT-IN WATERPROOFING - Sealed from above with a "blind hole" and pre-installed sealing washing, the Flat Roof Attachment delivers integrated waterproofing with popular roofing systems.
HIGH-STRENGTH ALUMINUM BASE - Made from high-strength cast aluminum, the 7" wide, heavy-duty base delivers superior uplift and lateral capacity compared to any other product on the market.
16-POINT FASTENING PATTERN - 12-straight and 4-angled fastening options provide maximum capacity and versatility with wood, steel, decks, beams, and even concrete slabs.
COMPATIBLE ROOF MEMBRANES (Sold Separately) - Formed membrane covers are matched to major roofing brands to ensure a tested, engineered system for TPO, PVC, and KEE roofs. No additional sealant necessary.
The specifications document is loading.
Generally all of our products are in stock and ready to ship within 2 business days.
If an item you ordered is out of stock, we will contact you within 1 business day with an expected ship date. You will then have the option to accept the new ship date or cancel your order.
Either way, we guarantee your card will never be charged until your order ships.