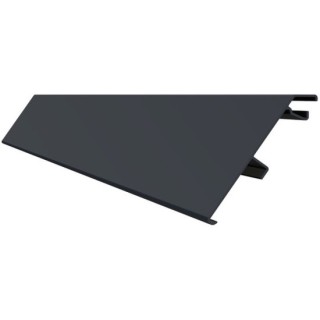 IronRidge CTR-TR84-01-B1 Contour Trim
84", Anodized Aluminum, Black, Qty. 1
---
Item # 1330-174
---
IronRidge CTR-TR84-01-B1 Contour Trim, 84", Anodized Aluminum, Black, Qty. 1
Contour™ Solar Array Trim - Aesthetic Arrays, Sleeker All Around
Designed to be compatible with tile, metal or shingle pitched roofs, IronRidge Contour™ Trim elevates the look of any solar array by providing a sleek trim (or skirt) across the front edge or around the array perimeter to hide components that are visible beneath the solar panels. This trim system is ideal for anyone who wants the solar on their home to meet their energy needs, while not detracting from the array's aesthetics. Contour™ will make any array look great, and have you on and off the roof before you know it.
The IronRidge CTR-TR84-01-B1 Contour Trim comes in 84" lengths and is made of black powder-coated aluminum. If you need lengths longer than 84", you can purchase the IronRidge CTR-SPLC-01-M1 Contour Splice. Each piece can be cut to length to fit the array edge. (2) IronRidge CTR-CL-01-B1 Contour Clamps are needed to mount each length. A hidden clamp, like IronRidge CAMO-01-M1 Universal Hidden End Clamp, should be used when wrapping around arrays and for the best aesthetics.
Additional Components for a Complete Contour™​ System
Contour Trim Installation
Generally all of our products are in stock and ready to ship within 2 business days.
If an item you ordered is out of stock, we will contact you within 1 business day with an expected ship date. You will then have the option to accept the new ship date or cancel your order.
Either way, we guarantee your card will never be charged until your order ships.