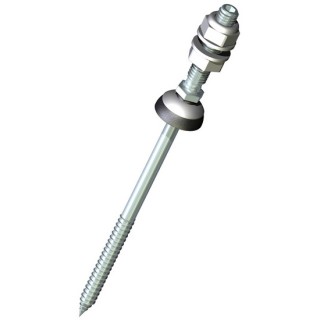 EJOT JA3-SB-8.0x130/50 FZD Stainless Steel Fastener for Wood Substructures
8mm Dia x 130mm (5.118") Long Lag, 10mm Dia x 50mm (1.969") Stud, Qty. 1
---
Item # 1330-892
---
EJOT JA3-SB-8.0x130/50 FZD Stainless Steel Fastener for Wood Substructures, 8mm Dia x 130mm (5.118") Long Lag, 10mm Dia x 50mm (1.969") Stud, Qty. 1
Exposed Fastener for Metal Roofs
The JA3 solar fastener features a highly engineered, specialized stainless steel (Type 304 (A2) as recommended by the National Roofing Contstructors Association) thread design which minimizes radial forces and expansion of the softwood of the purlins, rafters or trusses of the substructure and also offers maximum corrosion resistance. Linear expansion of the joint, as well snow loads, can be absorbed in a lasting and reliable way. The roofing is not loaded and the number of roof perforations is minimized. For an existing roof, the screws can simply exchanged with the JA3 Solar Fastener. Using common adaptors, the prominent thread is compatible with all rail systems and offers the possibility to compensate for differences in height.
The JA3's come in various lengths to suit any project and are available with a standard sealing element FZD or ORKAN Storm Washer (upon request).  The Solar Fastening System is also suitable for use on fibrous cement corrugated sheet roofs.
Features
Reduced installation time
The installation is very secure through the transfer of tensile loads and pressure forces directly into the substructure
A solar installation can easily be mounted on an existing roof – the old screws can be replaced with EJOT Solar Fastening Systems JA3 or JZ3, using the existing holes
Watertight Design that includes a proven sealing system for metal roofs - Minimum risk of leakage problems
The predefined fastener setup cannot be changed which avoids the alteration/elimination of important quality and performance characteristics
The specifications document is loading.
Generally all of our products are in stock and ready to ship within 2 business days.
If an item you ordered is out of stock, we will contact you within 1 business day with an expected ship date. You will then have the option to accept the new ship date or cancel your order.
Either way, we guarantee your card will never be charged until your order ships.