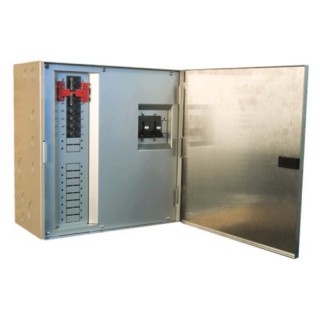 OutBack GSLC-PV1-300VDC Prewired Radian GS Load Center
For GS4048A-01, (1) 175A Breaker, 2-Pole 120/240VAC 50A Bypass/Input Breakers, For (1) FM100, FLEXnet DC, (2) 500A Shunts
---
Item #

1630-059
---
OutBack GSLC-PV1-300VDC Prewired Radian GS Load Center, For GS4048A-01, (1) 175A Breaker, 2-Pole 120/240VAC 50A Bypass/Input Breakers, For (1) FM100, FLEXnet DC, (2) 500A Shunts
OutBack GS Load Centers - Designed to simplify the configuration, distribution, and implementation of energy storage of the Radian Series of inverter/chargers through a standardized approach.
OutBack's GS Load Centers are a pre-wired enclosure series designed for AC and DC system connections with OutBack Radian inverter/charger applications, through provided inverter DC overcurrent protection and disconnects, dual AC inputs, grid-tie inverter connection and 120/240VAC maintenance bypass. The OutBack GSLC-PV1-300VDC Prewired Radian GS Load Center is intended as a "plug and play" solution for systems with a single GS4048A inverter/charger, one FLEXmax 100 Charge Controller and battery monitoring. The GSLC-PV1-300VDC does not have GFDI because the FM100 Charge Controller already has ground fault built in.
NOTE: Due to the different voltage ratings, OutBack Power does not recommend mixing the FM100-300VDC with the FM60 or FM80-150VDC controllers on the same battery bank. Be sure to review installation instructions when installing OutBack Power equipment.
Features
Pre-wired for quick and easy installation
Dual AC inputs and DC connections
120/240VAC inverter bypass
Greater dynamic stability
Dual AC inputs
UL 1741
Knockouts For 1/2", 3/4", 1", 1-1/4", 1-1/2" and 2" conduit
Includes
(1) 175A Panel Mount Breaker
(1) 80A Array Disconnect
FLEXnet DC
(2) 500A DC Shunts
(1) 2-Pole 120/240VAC 50A Bypass Breaker
(1) 2-Pole 120/240VAC 50A Input Breaker
120/240VAC Sliding Bypass Interlock
Ground Bus Bar
Neutral Bus Bar
(1) PV (Positive) Bus Bar
Inverter Power Bus Bar
AC Wiring and Enclosure Mounting Hardware
Recommended for OutBack Radian Model: GS4048A-01
Recommended for OutBack Charge Controller Model: FLEXmax 100
Unit Weight = 40 LBS; Shipping Weight = 45 LBS
*For all GSLC models: Unit Dimensions are 17"H x 16"W x 8.5"D and the Shipping Dimensions are 23.25"H x 20.5"W x 13.25"D.
The specifications document is loading.
Generally all of our products are in stock and ready to ship within 2 business days.
If an item you ordered is out of stock, we will contact you within 1 business day with an expected ship date. You will then have the option to accept the new ship date or cancel your order.
Either way, we guarantee your card will never be charged until your order ships.