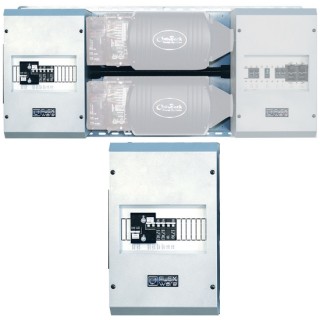 OutBack FW500-AC FlexWare Disconnect Box
With Ground Bar & DIN Rail, For 1 to 2 Inverters
---
Item #

1630-090
---
OutBack FW500-AC FlexWare Disconnect Box, With Ground Bar & DIN Rail, For 1 to 2 Inverters
For applications with medium power requirements such as homes, light commercial or larger back-up power systems. The FLEXware 500 system architecture can support up to two OutBack FX Series Inverter/Chargers, up to two OutBack charge controllers and all the associated AC and DC components. Thanks to a very compact design, FLEXware 500 AC and DC enclosures mount with a FLEXware MP in either a horizontal or vertical orientation to allow installation in more space-limited locations for a fast and professional looking wall-mounted installation. The FLEXware 500 accommodates all of the essential protective devices in two enclosures.
Features
AC enclosure which mounts at the AC side of one or two FX Series Inverter/Chargers. Supports six terminal bus bars and one FW-X240. The FW500 system utilizes one FW-MP (mounting plate) and a set of the DCA and ACA conduit adapters for each inverter/charger. DC and AC breakers, Input-Output-Bypass Assemblies and all other additional components sold separately.
FLEXware 500 power systems provide locations for FW-X240 Auto-Transformers, multiple DC shunts and other essential components required in higher kW systems.
Includes
A complete FLEXware 500 System consists of the following in addition to the FW500-AC and FW500-DC:
A FLEXware Mounting Plate (FW-MP)
Two FX Series Inverter/Chargers
AC Conduit Adapter (ACA) and a DC Conduit Adapter (DCA), which connect each FX to theFW500-AC and FW500-DC
MX Charge Controller(s) (normally part of this system) and mounting brackets
AC and DC breakers including a specific AC Input/Output/Bypass Breaker (IOB) Kit
Bus bars and DC current shunts as required per specific installation
DC and AC ground fault protection
Generally all of our products are in stock and ready to ship within 2 business days.
If an item you ordered is out of stock, we will contact you within 1 business day with an expected ship date. You will then have the option to accept the new ship date or cancel your order.
Either way, we guarantee your card will never be charged until your order ships.