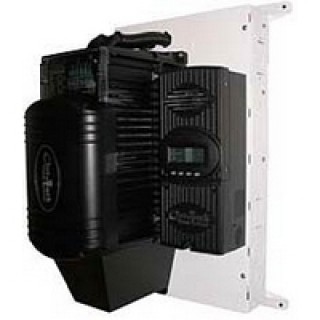 MidNite Solar MNE250AL-PLUS E-Panel
250A, 125 VDC, Stretched Aluminum for Outback Inverters
---
Item #

1630-028
---
MidNite Solar MNE250AL-PLUS E-Panel, 250A, 125 VDC, Stretched Aluminum for Outback Inverters
The MidNite Solar E-Panel comes standard with the basic over-current protection and disconnects required to install your renewable energy system. It can also expand to grow as your needs arise.
Inverter installation has just gone from hours to minutes with MidNite Solar's E-Panel. These disconnect boxes can easily be stacked horizontally or vertically to save space.
Inverter/Charge Controller mounted on door MX60, FM60 FM80, Classic (Sold Separately)
Breaker: 250 Amp 125 VDC
Material: White Aluminum
Left Side Hinge: hinge on left, circuit breakers on the left and charge control bracket on the right.
Dimensions: 14" X 12" X 28" (355.6 x 304.8 x 711.2 mm)
Weight: 25 Lbs (11.37 kg)
Features
Stretched Case
Small size compared to existing disconnect and over current solution
Pre-wired to save time, money and complexity. All field wiring connections clearly labeled
White powder coated aluminum or standard gray powder coated steel
Easily expands to accommodate additional inverters
Six slots for din rail breakers, PV, Wind, Hydro, AC distribution
Pre-wired 50 amp 240VAC rated Inverter AC bypass switch
Pre-wired 50 amp 240VAC rated AC Input disconnect
Bus bars for Battery Plus, Battery Minus and ground
Mounting hardware for Inverter and charge controller
Mounting brackets for hanging E-Panel on wall
Heavy duty 250 amp AC distribution block
ETL listed to UL and Canadian standards
Standard Right hand hinged door to mount inverter
Knockouts for AC and DC conduits
Charge control bracket (CCB)
Cut outs for two GFCI outlets
DC Inverter battery breaker
Internal inverter cables
Dimensions: 24.91" X 20.32" X 3.58" (632.7 x 516.1 x 90.9 mm)
Weight: 27 Lbs (12.27 kg)
All E-Panels now come with a side plate that accommodates up to three panel mount breakers like the MNEDC80. All OB E-Panels also now come with a Mate mounting bracket, PV + bus bar and 80 amp bat + bus bar.
Note: To use the OutBack Surge Protector FW-SP-ACA on an E-Panel you must purchase a stretched case E-Panel. To obtain surge protection in a smaller case use Delta Lightning Arrestors.
Choose the right E-Panel for your inverter:
Model No.
OUTBACK INVERTERS
MNE125ST
MNE125STS
MNE125AL
FX3048T, GTFX3048, FX2532MT, FX2348ET

 

 

MNE175ST
MNE175STS
MNE175AL
NME175AL-PLUS
FX2524T, VFX3648, FX2524MT, VFX3232M, FX2024ET, VFX3048E

 

 

MNE250ST
MNE250STS
MNE250AL
NME250AL-PLUS
FX2012T, VFX2812, VFX3524, GVFX3524, FX2012MT, VFX2012ET, VFX2612E, VFX3024E, FX2012MT, VFX2812M
Generally all of our products are in stock and ready to ship within 2 business days.
If an item you ordered is out of stock, we will contact you within 1 business day with an expected ship date. You will then have the option to accept the new ship date or cancel your order.
Either way, we guarantee your card will never be charged until your order ships.