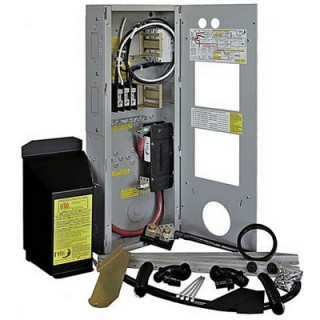 MidNite Solar MNE175AL-PLUS E-Panel
175A, 125 VDC, Stretched Aluminum for Outback Inverters
---
Item #

1630-017
---
MidNite Solar MNE175AL-PLUS E-Panel, 175A, 125 VDC, Stretched Aluminum for Outback Inverters
MidNite Solar Outback E-Panel with 175A/125VDC inverter breaker in the white aluminum chassis, left hand hinge and breakers.
The white aluminum E-Panels are used in places like wherever salt air is a factor. Aluminum E-Panels also weighs around 4kgs less than the gray steel versions. Some customers just like the look of white, and order aluminum just for that reason..
This is the basic E-Panel made for all of the OutBack FX and VFX inverters. The enclosure is only 9.5 inches (24cm) wide and 25 inches (63.5cm) tall. The main features are it's small size and low cost. The main drawback is also the small size. The picture here doesn't show it, but the insides have undergone a radical change in the form of individual AC busbars rather than the single AC block. This change allows up to 14 connections per circuit rather than only 5. This enclosure has left hand hinged unit (door swing and breakers for this left version are opposite from the right hand version shown).
The MidNite Solar E-Panel comes standard with the basic over-current protection and disconnects.
Features
Inverter mounts on a unique hinged door to keep the foot print of the system small as possible
Mounting brackets are included to aid in one person installations
Inverter battery breaker, inverters cables and snap in grommets included
500 amp / 50mv shunt included for battery monitoring systems
Bus bars are included for additional battery plus and battery minus wiring
Heavy duty 175 amp AC power distribution bus bars included
50 amp AC input disconnect for generator or utility included, pre-wired (15amp MM series)
50 amp AC bypass switch for bypassing inverter circuit, pre-wired (15amp MM series)
Mounting bracket to aid in mounting an OutBack MX60 or MidNite Classic to the side of the E-Panel
Battery cable cover to enclose cables external to the chassis
Inverter and charge controller mounting hardware
Rectangular cut outs for mounting a North American GFCI style AC outlet
Cut outs for mounting up to six additional 13mm wide din rail mount breakers for additional circuits such as PV, wind, hydro or AC distribution
Plastic snap in conduit and fittings from chassis to inverter for AC, BTS and control circuits (OB versions)
ETL listed to UL and CSA standards
Note: To use the OutBack Surge Protector FW-SP-ACA on an E-Panel you must purchase a stretched case E-Panel. To obtain surge protection in a smaller case use Delta Lightning Arrestors.
Choose the right E-Panel for your inverter:
Model No.
OUTBACK INVERTERS
MNE125ST
MNE125STS
MNE125AL
FX3048T, GTFX3048, FX2532MT, FX2348ET

MNE175ST
MNE175STS
MNE175AL
NME175AL-PLUS
FX2524T, VFX3648, FX2524MT, VFX3232M, FX2024ET, VFX3048E

MNE250ST
MNE250STS
MNE250AL
NME250AL-PLUS
FX2012T, VFX2812, VFX3524, GVFX3524, FX2012MT, VFX2012ET, VFX2612E, VFX3024E, FX2012MT, VFX2812M
Generally all of our products are in stock and ready to ship within 2 business days.
If an item you ordered is out of stock, we will contact you within 1 business day with an expected ship date. You will then have the option to accept the new ship date or cancel your order.
Either way, we guarantee your card will never be charged until your order ships.