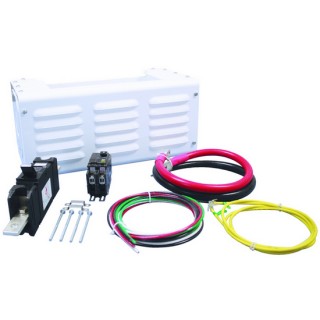 Magnum Energy MPXS250-30D-L Panel Extension Box
For MPSL/MPSH Left Side, 250ADC breaker, 30A 2-pole AC breaker, Wires, Hood
---
Item #

1610-063
---
Magnum Energy MPXS250-30D-L Panel Extension Box, For MPSL/MPSH Left Side, 250ADC breaker, 30A 2-pole AC breaker, Wires, Hood
Designed for multiple inverter applications, the MPX Extension Box allows additional inverters to be integrated into the MP Series Systems Panels. The top of the MPX Extension Boxes have opening for Magnum inverter and side opening to run the AC and DC wiring to the MP Panel system.
The MPX Series comes with the AC and DC breakers and wiring to install another Magnum Inverter. An inverter hood is also included with each MPX extension to allow the inverter to be mounted vertically. There are three models of the MPX Series, depending on which MP enclosure it will be installed. Each model has a left and right side version depending on which side of the MP enclosure it will be installed - this ensures correct battery cable lengths.
MPXS250-30D-L (Left): MPX enclosure that installs on either the MPSL250-30D or MPSH250-30D.
Includes
One 30 Amp AC Double-pole input circuit breaker
One 250 ADC breaker
Inverter hood
All AC and DC inverter wiring to add another inverter
Generally all of our products are in stock and ready to ship within 2 business days.
If an item you ordered is out of stock, we will contact you within 1 business day with an expected ship date. You will then have the option to accept the new ship date or cancel your order.
Either way, we guarantee your card will never be charged until your order ships.