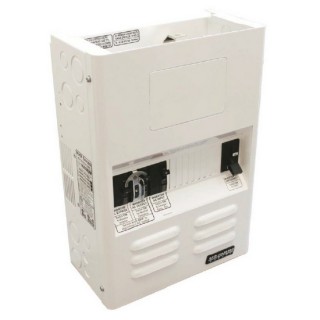 Magnum Energy MMP250-30D Mini Magnum Panel
120/240VAC, 250A DC Breaker and 30A Dual Pole AC Input Breaker
---
Item #

1630-003
---
Magnum Energy MMP250-30D Mini Magnum Panel, 120/240VAC, 250A DC Breaker and 30A Dual Pole AC Input Breaker
The MMP (Mini Magnum Panel) has been specifically designed to combine all of the major components required for a renewable energy system — inverter/battery disconnect, AC overcurrent protection, grounding connections, and a full system inverter bypass switch as a convenient way to isolate the inverter for battery maintenance — into a single, easy to install pre-wired enclosure.

Designed for single inverter applications, the MMP enclosure features convenient front panel operation, and with the optional front panel remote, allows you to easily set up, monitor, and operate your Magnum inverter system. In addition to saving time and money by providing a simple and convenient inverter installation, the MMP enclosure ensures safety and reliability by providing a UL and CSA certified and code compliant system.
What makes the MMP enclosure stand out from the competition?
It is engineered to combine the ease and cost savings of a pre-wired, factory-integrated system with the flexibility of a single person, field installed power system.
The self-contained enclosure system is convenient and space-saving, reducing installation time and cost compared to a conventional approach using multiple interconnected components.
Multiple models are available to meet the flexibility and power demands of your application.
Specifically designed to fit Magnum inverters, but easily adaptable to connect other inverter systems in 12, 24, or 48 VDC standardized configurations.
Includes a built-in AC bypass switch with full system current capability, and a DC disconnect breaker for safe and easy servicing of the inverter and/or battery bank.
Additional space to install up to eight ½" (12.7mm) wide DIN rail-mounted breakers or four 1" (25.4mm) wide back-mounted breakers for use as DC load breakers; or, space to install PV disconnects or PV-Ground Fault Protection (PV-GFP).
A full system capacity DC shunt (500 amps) installed to allow easy connection to a state-of charge battery monitor.
AC/DC wiring connections and circuit breaker operations are easily accessible from the front.
Includes
MMP enclosure
Inverter hood
RJ14 extension cable
6' Network cable
6' Remote cable
3/8-16 x 1" bolt
3/8" split lock washer
Owner's manual
Generally all of our products are in stock and ready to ship within 2 business days.
If an item you ordered is out of stock, we will contact you within 1 business day with an expected ship date. You will then have the option to accept the new ship date or cancel your order.
Either way, we guarantee your card will never be charged until your order ships.