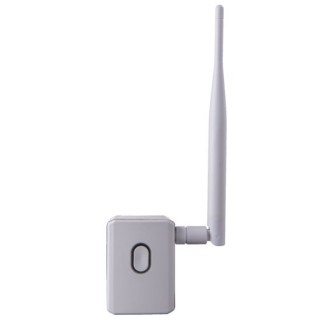 SolarEdge SE-WFGW-B-S1-NA Wireless Gateway
with Antenna, For SetApp Inverters, WiFi
---
Item # 2150-007
---
SolarEdge SE-WFGW-B-S1-NA Wireless Gateway, with Antenna, For SetApp Inverters, WiFi
The Wi-Fi communication option enables connecting a SolarEdge inverter to the SolarEdge monitoring platform. The Wireless Gateway collects all inverters monitoring data using dedicated Wi-Fi and connects to the monitoring platform through Ethernet. The SE-WFGW-B-S1-NA Wireless Gateway provides an enhanced alternative communication option to the ZigBee Gateway, eliminating the need to install a plug-in inside SetApp-enabled inverters. The Wi-Fi connection between the gateway and the inverter is independent, therefore avoiding problems related to the home router, (ie., changing the password will not affect the PV system connection to the monitoring platform). A Wi-Fi access point is built into the SetApp inverter. An antenna (included in the Wireless Gateway package) connects to the inverter. The Wireless Gateway is connected to the home router with a hardwired Ethernet cable.
If you need extended range, you will need SE-WFRPT-B-S1-NA Repeater (sold separately). One or two can be used for extending the Wi-Fi range. The Repeater connection to the Wireless Gateway and inverters is wireless and does not require an Ethernet cable.
NOTE: The Wireless Gateway and Repeater can only be used with SolarEdge SetApp inverters.
Features
Contactless Installation: Enables pairing of wireless gateway with the inverter (using SetApp outside the home) — leave behind for homeowners to activate
Easy Setup: Easy installation and configuration with onboard wireless communication (by installers via SetApp or by system owners via mySolarEdge)
24/7 Connection: Wireless communication between inverter and monitoring platform
Confidence: Operate on a secure and robust, closed network
Expand Your Range: Connect to up to two SolarEdge repeaters for extended wireless range
Connect More: Support up to eight SolarEdge inverters on a single network
Fewer Service Calls: No installer action required when network passwords change
Wireless Gateway for Robust SolarEdge System Monitoring
Installing and Configuring the Wireless Gateway
The specifications document is loading.
Generally all of our products are in stock and ready to ship within 2 business days.
If an item you ordered is out of stock, we will contact you within 1 business day with an expected ship date. You will then have the option to accept the new ship date or cancel your order.
Either way, we guarantee your card will never be charged until your order ships.