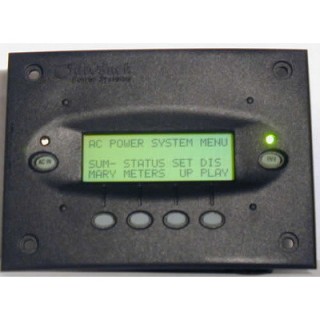 OutBack MATE2 Communications Controller for FlexWare
Black Flush Mount Case
---
Item #

2130-024
---
OutBack MATE2 Communications Controller for FlexWare, Black Flush Mount Case
OutBack's proprietary communication network enables all of their products to communicate with each other, providing a seamless setup and user experience across all components of an OutBack system.

OutBack's product line currently includes a variety of communication devices for maximum flexibility and control of renewable energy systems. OutBack's MATE product line includes the MATE, MATE2 and MATE3 devices, all of which make it easier than ever to program and monitor a complete OutBack Power system.
The MATE2 system display and controllers are complete management tools for your OutBack Power system. Through the use of a single MATE, you can remotely manage and monitor multiple inverter/chargers, MX60s and any future OutBack power conversion and control products. The MATE2 is packed full of features to make system management simple. The easy-to-read 3.1" (8 cm) LCD is backlit for dark operating conditions. Four soft keys allow easy context-based navigation of menus and functions. Two hot keys give immediate access to AC and inverter functions.
A built-in clock and calendar function enables timer based programming of inverter and charger operation, allowing operators to set the system to work with time-of-day power rates or to limit a generator's runtime to a specific time period of the day or week. All of your settings are stored in permanent memory to eliminate the need to reprogram in the event of a system shutdown or battery replacement. The MATE2 includes a RS232 port with DB9 jack for connection to the serial port of a PC computer. Through the use of optional WinVerter software, operators can perform actions such as data-logging and graphical display of the system's operation and performance. The MATE2 is flush mountable in a wall cut-out.
Features
Simple system management.
Four soft keys allow easy context-based navigation of menus and functions.
Built-in clock and calendar function.
Two hot keys give immediate access to AC and inverter functions.
MATE2 Specifications
 
 

Black

MATE2
Surface mount with RS232
 
 
Interface Display
3.1" (8 cm) backlit LCD - four line, 80 alpha numeric characters
Control Keypad
6 backlit silicone keys - dedicated inverter and AC input keys
Status Indicators
Two LED Status Indicators - AC input (yellow), inverting (green)
Communication Protocol
Proprietary OutBack Multi-drop using an OutBack HUB4 or HUB10
Interconnection Cabling
Standard CAT 5 network cable with RJ45 modular jack - 10' (3 m) included
PC Computer Interface
RS232 opto-isolated DB9 jack 9600 baud serial communication
Microprocessor
16 MHz low power consumption version
Setpoint and Data Memory
32K non-volatile flash RAM
Clock / Calendar
On-board real time clock with battery backup
Environmental Rating
Indoor Type 1
Maximum Cable Length
1000' (300 m)
Warranty
Standard 2 year / Optional 5 year

Shipping

Weight
1 lb (.5 kg)

Shipping

Dimensions (H x W x L)
5.75 x 4.25 x 2" (15 x 11 x 5 cm)
Generally all of our products are in stock and ready to ship within 2 business days.
If an item you ordered is out of stock, we will contact you within 1 business day with an expected ship date. You will then have the option to accept the new ship date or cancel your order.
Either way, we guarantee your card will never be charged until your order ships.