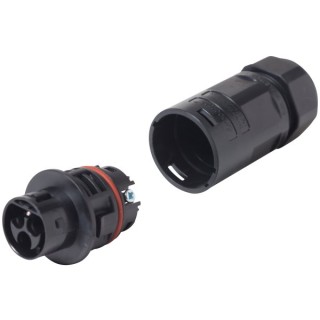 APsystems Male AC Connector
2300531032
---
Item # 1410-189
---
APsystems Male AC Connector, 2300531032
The high-performance VSN700 Data Logger provides simple and quick commissioning with device discovery and automatic IP addressing as well as remote management features.
This SunSpec compliant data logger records data and events from inverters, energy meters, weather stations, and other photovoltaic plant devices and acts as an Internet gateway to send the data securely and reliably to the Aurora Vision Plant Management Platform for performance monitoring, condition monitoring and data reporting.
The VSN700 Data Logger is also available integrated in turnkey solutions, such as VSN730 System Monitor.
Three Performance Levels: The VSN700 Data Logger is available in three performance levels to fit anyone's budget and functionality. VSN700-01 Data Logger is available to those residential customers who only need to monitor up to five (5) single-phase inverters. VSN700-03 Data Logger is a cost-optimized logger for small commercial installations up to ten (10) single and three phase strings inveters and one weather station (VSN800). VSN700-05 Data Logger provides both customer data management and inverter command and control for commercial and utility PV system operation, as well as SCADA integration.
Features
All VSN700 Data Logger models include: Data management system with serial and Ethernet ports for data and event logging.
Quick installation and fast plug-n-play commissioning with device discovery mechanism.
Network Provisioning with dynamic IP addressing (DHCP client and server).
Reliable and secure transmission of operational data to Aurora Vision Plant Management Platform.
Remote configuration and management capabilities, including firmware upgrades over the Internet using Aurora Vision Plant Portfolio Manager.
Simple end-user UI using Aurora Vision Plant Viewer.
VSN700-05 Data Logger (Max) includes the following additional functionality: No software limitation on number of devices logged.
Limitation is set by memory and bandwidth usage.
Modbus TCP server using SunSpec compliant Modbus maps for easy SCADA system integration, data collection, and inverter command execution.
Support for most ABB inverters, meters, smart combiners and weather stations.
Generally all of our products are in stock and ready to ship within 2 business days.
If an item you ordered is out of stock, we will contact you within 1 business day with an expected ship date. You will then have the option to accept the new ship date or cancel your order.
Either way, we guarantee your card will never be charged until your order ships.