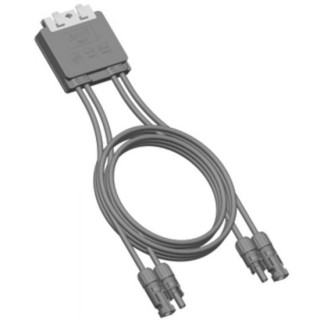 SMA JMS-F SunSpec Rapid Shutdown Module
600W, Module Level RSD, Compliant with NEC 2017 and 2020 When Used with SunSpec Equipped Inverters, MC4 Connectors, 119814-00.01
---
Item # 1410-030
---
SMA JMS-F SunSpec Rapid Shutdown Module, 600W, Module Level RSD, Compliant with NEC 2017 and 2020 When Used with SunSpec Equipped Inverters, MC4 Connectors, 119814-00.01
Now Compatible With Modules up to 600W
The SMA JMS-F SunSpec Rapid Shutdown Module, is the most cost-effective and reliable solution for fulfilling NEC 2017 module level shutdown requirements. The module-level device is certified for compatibility with the SunSpec communication signal and SMA inverters, making compliance simple and easy. By using the existing DC lines between the inverter and PV array for power line communications, installation and labor are significantly reduced. No additional wires or communication equipment is needed. The solution also features up to 50% fewer internal components vs alternatives, resulting in greater lifetime reliability.
The JMS-F uses PLC communication. The signal is transmitted by an inverter with a built-in transmitter function through the DC bus. After the JMS-F receives the signal, the switch turns on and the energy generated by the PV module will be delivered to the AC grid through the inverter. When an emergency situation occurs, the AC power can be turned off by switching off the AC breaker in the cabinet. Then the inverter's built-in transmitter function stops sending signals and the JMS-F will shut down the power output, eliminating the high voltage on the DC bus.
Features
Cost-effective
Simple plug-and-play installation
No additional components necessary, reducing balance of system costs
Simple and robust
Power line based communication certified for compatibility with the SunSpec signal for rapid shutdown
Shuts down PV module whenever SunSpec signal is interrupted
Safe and certified
Certified and listed for compliance to:
UL 1741 Rapid Shutdown System Equipment
NEC 2017 690.12(B)(2) Module Level Shutdown
Reduced risk
Technical support from SMA's #1 ranked service organization
Fully SunSpec certified solution when paired with an SMA SunSpec certified inverter
The specifications document is loading.
Generally all of our products are in stock and ready to ship within 2 business days.
If an item you ordered is out of stock, we will contact you within 1 business day with an expected ship date. You will then have the option to accept the new ship date or cancel your order.
Either way, we guarantee your card will never be charged until your order ships.