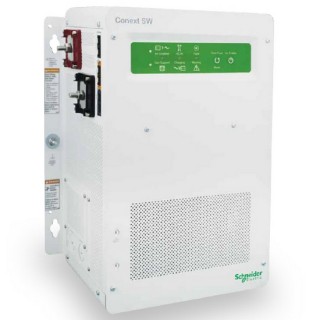 Schneider Electric Conext SW4048-120/240 Inverter/Charger
4000W, 120/240VAC, 50/60Hz, 30A Transfer, 48VDC, 45A Charger, RNW8654048
---
Item # 1420-032
---
Schneider Electric Conext SW4048-120/240 Inverter/Charger, 4000W, 120/240VAC, 50/60Hz, 30A Transfer, 48VDC, 45A Charger, RNW8654048
Proven Value for Off-Grid, Backup Power and Self-Consumption
The Conext SW4048 pure sine wave, hybrid inverter/charger is perfect for global off-grid solar and backup power applications with switchable 50/60 Hz frequencies, providing power for every need. The Conext SW 4kW (48 VDC) features 120/240 VAC output, capable of producing 120/240 VAC output from a 120 VAC input, without the need for an external transformer. For expanded off-grid capacity, the Conext SW is integrated with fuel-based generators as required to support loads larger than the generator's output. It's also self consumption ready, able to prioritize solar consumption over the grid, while maintaining zero grid export.
The Conext SW works with the grid to avoid peak utility charges and support the grid when utility supply is limited.
Features
System installation is faster and easier with Conext SW integrated switch gear and mounting bracket design making hanging inverter on the wall easy
High consumption loads are easily run with the high surge capability of Conext SW
Global requirements are met with the programmable 50/60Hz output of Conext SW
North American split phase output from a single Conext SW
Network communication capability allows device settings and activity to be communicated to other plug-and-play devices, such as System Control Panel (SCP), Automatic Generator Start (AGS) and MPPT Solar Charge Controllers. Remote monitoring and protocol conversion is available
The specifications document is loading.
Generally all of our products are in stock and ready to ship within 2 business days.
If an item you ordered is out of stock, we will contact you within 1 business day with an expected ship date. You will then have the option to accept the new ship date or cancel your order.
Either way, we guarantee your card will never be charged until your order ships.