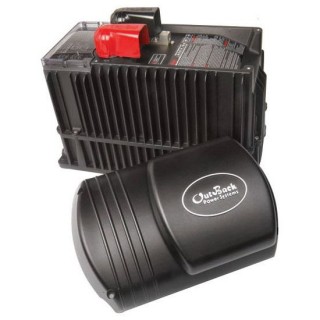 OutBack FXR3048A-01 Sealed Inverter/Charger
3000W, 120VAC, 60Hz(50Hz) Selectable, 60A AC Input, 48VDC, Sinewave, 35A Charger, with BTS, UL-1741-SA
---
Item #

1420-002
---
OutBack FXR3048A-01 Sealed Inverter/Charger, 3000W, 120VAC, 60Hz(50Hz) Selectable, 60A AC Input, 48VDC, Sinewave, 35A Charger, with BTS, UL-1741-SA
All New FXR A-01-Series Grid/Hybrid Inverter/Charger meets UL 1741-SA Certification per California's Rule 21.
The latest, most advanced features on the industry's most trusted and proven platform. Capable of off-grid or grid-connected operation in a single model, the FXR3048A-01 sealed (weather-resistant chassis) inverter/charger provides unprecedented design flexibility and compatibility for nearly any power conversion scenario and meets UL 1741-SA advanced inverter testing as defined in California's Rule 21. Pair this inverter/charger with a MATE3 to add OPTICS RE to monitor and control system performance from any location. Available in power ranges from 2000W-3600W and sealed or vented units with NEMA Type 1 die-cast aluminum chassis which are designed to operate in the harshest environmental conditions such as high temperatures, humidity or corrosive salt air. You can stack multiple units and connect them with other OutBack Power electronics for more seamless system integration and the ability to function in a wide variety of applications, and system sizes. You can even combine up to nine inverters in a 3-phase system with the 12V, 24V or 48V models, and up to 36kW in a grid-tied 24V or 48V system. The exclusive modular system architecture means that increased power output is just an additional FXRA-01 inverter/charger away. The new FXR's continue OutBack's tradition of absolute dependability in mission critical installations no matter how harsh or challenging the conditions.
Features
Single-phase 120V, True Sinewave Output in 12V, 24V, or 48V Versions
2000W, 2500W or 3000W Sealed Models
2800W, 3500W or 3600W Vented Models
Intelligent Battery Charging with expanded charging voltages and time parameters, enabling system designers to accommodate the specific charging profiles and algorithms of new and emerging energy storage technologies including Lithium Ion, Aqueous Ion and Flow Chemistry Batteries
Power Factor Corrected Battery Charging
Programmable for Seven Different Modes with Generator Assist, Including GridZero and Support Mode and Built-in Networked Communications
Modular, Stackable Design for up to Nine Inverters in Three-phase and 10 Inverters in Grid-tied
Up to 93% Operating Efficiency
Field Upgradable Software
Standard 5-Year Warranty with Optional 10-Year
The specifications document is loading.
Generally all of our products are in stock and ready to ship within 2 business days.
If an item you ordered is out of stock, we will contact you within 1 business day with an expected ship date. You will then have the option to accept the new ship date or cancel your order.
Either way, we guarantee your card will never be charged until your order ships.