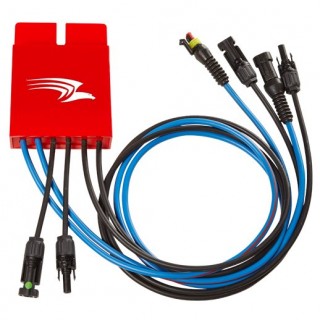 OutBack FireRaptor OBFRS-01 Rapid Shutdown Unit
One Per 2 Solar Panels, NEC 2017 Compliant
---
Item # 1410-004
---
OutBack FireRaptor OBFRS-01 Rapid Shutdown Unit, One Per 2 Solar Panels, NEC 2017 Compliant
FireRaptor - The Ultimate Emergency Solar Panel Rapid Shutdown Safety Solution
The FireRaptor OBFRS-01 unit is a reliable, robust and simple module level rapid shutdown system providing three types of shutdown to zero volts in case of fire or other emergency. First, manual shutdown is possible via a dedicated emergency push button (sold separately) which can be conveniently located anywhere on your site for emergency access. Second, automatic shutdown will occur when the FireRaptor detects an ambient temperature rise greater than 185°F (85°C) and finally, if the external AC power supply is interrupted. The FireRaptor OBFRS-01 unit will turn back on automatically when the temperature drops. If it senses a temperature over 198°F (92°C), it will shutdown completely and require a manual reset.
The FireRaptor offers completely independent functionality, allowing it to be fitted with new PV installations or retro-fitted into existing ones. The FireRaptor OBFRS-01 is designed to shutdown two panels in series (each panel must be <40V to comply with NEC 2017) or it can be mounted in a single panel configuration for an odd number of PV panels. It is powered by a two conductor cable system with its own connectors and the communications cabling is hard wired. There is no wireless or power line communications in this system that can fail due to interference from a charge controller, inverter, or externally. The system is compatible with any charge controller or inverter. Each OBFRS-01 unit comes with two MC4 module connectors on 5" pigtails, two string series pigtails each at 71" with MC4 connectors, and two control wire pigtails each at 71" with special connectors. The control wire is a jacketed dual conductor, and the connectors work for both connectors. The FireRaptor meets the current requirements of NEC 2017 and is cULus and FCC approved.
NOTE: The FireRaptor OBFRS-01 does not have any monitoring or optimization.
Features
Manual Shutdown to 0V within 1 second
Automatic Shutdown to 0V on AC Supply Cut-Off
Automatic Shutdown to 0V at >85°C (185°F) Temperature
Compatible with ALL String Inverters
Hardwire or Mobile Communication Alarm Signalling
Compliant with NEC 2017 & NEC 2014
Suitable for New Installations or Retro-Fit
The specifications document is loading.
Generally all of our products are in stock and ready to ship within 2 business days.
If an item you ordered is out of stock, we will contact you within 1 business day with an expected ship date. You will then have the option to accept the new ship date or cancel your order.
Either way, we guarantee your card will never be charged until your order ships.