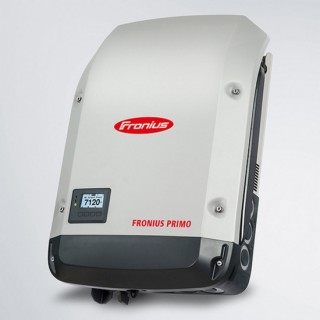 Fronius Primo 12.5-1 Inverter
12.5kW, 208/240VAC, 60Hz, 600VDC, DC Disconnect, 4 Fused Inputs, 2 MPPT, Wi-Fi/Ethernet Datamanager, Arc-Fault Protection, UL 1741 SA Compliant
---
Item #

1430-236
---
Fronius Primo 12.5-1 Inverter, 12.5kW, 208/240VAC, 60Hz, 600VDC, DC Disconnect, 4 Fused Inputs, 2 MPPT, Wi-Fi/Ethernet Datamanager, Arc-Fault Protection, UL 1741 SA Compliant
Design Flexibility and Unrivaled Power Capability In One Sleek Package.
With power categories ranging from 3.8 kW to 15.0-1 kW, the transformerless Fronius Primo is the ideal compact single-phase inverter for residential applications with a 208/240 grid connection. The sleek design of the SnapINverter hinge mounting system and the lightweight inverter itself, creates a streamlined, secure and convenient installation and service that can be done in under 15 minutes.
The Fronius Primo 12.5-1 Inverter has several integrated features that set it apart from competitors, providing a convenient and "one-stop shop", high quality inverter. Some of the features are dual powerpoint trackers, high system voltage, a wide input voltage range and unrestricted use indoors and outdoors. Other standard features include a Wi-Fi®* and SunSpec Modbus interface for seamless monitoring and data logging, field proven Arc Fault Circuit Interruption (AFCI), and Fronius's free online and mobile platform Fronius Solar.web. All Primo Inverters are designed to work with the Fronius Rapid Shutdown box for NEC 2014 690.12 compliance. Rapid shutdown is triggered whenever AC is not present, and the DC voltage and current between the array and the inverter is quickly discharged. One box is required per DC string.
Features
PC Board Replacement Process
Dual MPPT inputs
SNapINverter Mounting System with a NEMA 4X Enclosure
Wi-Fi®*, wired Ethernet, or Serial monitoring through preinstalled Datamanager 2.0 Card
SuperFlex Design
Monitoring included via Fronius Solar.Web Portal
Smart Grid Ready
Operating temperatures of -40° F to +140° F
Arc Fault Circuit Interruption (AFCI) for added safety per NEC 2011
Listed to UL 1741-2010 and UL1699B-2013 for U.S.A. and Canada
*The term Wi-Fi® is a registered trademark of the Wi-Fi Alliance.
The specifications document is loading.
Generally all of our products are in stock and ready to ship within 2 business days.
If an item you ordered is out of stock, we will contact you within 1 business day with an expected ship date. You will then have the option to accept the new ship date or cancel your order.
Either way, we guarantee your card will never be charged until your order ships.