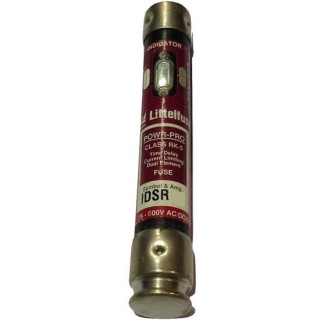 Littelfuse IDSR-60 Fuse
For Square D, DC Disconnect, 60A, 600VDC, 600VAC, Class R
---
Item # 1950-059
---
Littelfuse IDSR-60 Fuse, For Square D, DC Disconnect, 60A, 600VDC, 600VAC, Class R
The Littelfuse IDSR Indicator fuse offers a patented solid-state design and provides state-of-the-art reliability along with the convenience of blown fuse indication. The unique design of the IDSR also features a 600 volt AC/DC rating making it ideal for DC applications.
Features
Superior Performance – Littelfuse leading edge metallurgy eliminates all moving parts in a true dual-element design. The IDSR also provides superior time-delay to withstand minor current surges without sacrificing protection for sustained overloads or shortcircuit conditions.
600 Volt AC/DC Rating – The IDSR is UL Listed for 600 volts AC/DC, which makes it ideal for a variety of applications. It is also MSHA approved.
Reduce Downtime – Costly downtime is minimized using Littelfuse Indicator fuses. A glance at the indicator window tells if the fuse has blown. If the window is dark, the fuse has opened. It's that simple.
Increase Safety – Littelfuse Indicator Fuses minimize exposure to "live" circuit parts while searching for a blown fuse. Other forms of indication require current to power a light. Littelfuse Indicator fuses can be identified with the power off.
Generally all of our products are in stock and ready to ship within 2 business days.
If an item you ordered is out of stock, we will contact you within 1 business day with an expected ship date. You will then have the option to accept the new ship date or cancel your order.
Either way, we guarantee your card will never be charged until your order ships.