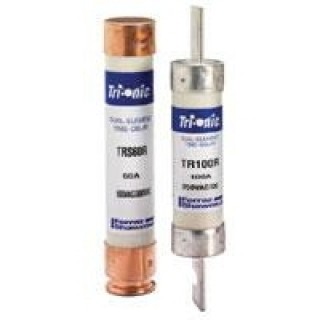 Ferraz TR30R Fuse
TR, 30A, 250VAC, for Square D AC Disconnect
---
Item #

1950-011
---
Ferraz TR30R Fuse, TR, 30A, 250VAC, for Square D AC Disconnect
American Power Fuses
TRI-ONIC®
TR and TRS (Class RK5 TD)
Tri-onic® SmartSpot® fuses now provide an optional visual open fuse indicator. With advanced material technology added to the existing product line the TR current-limiting time-delay fuses are engineered for overcurrent protection of motors and transformers, service entrance equipment, feeder and branch circuits. Tri-Onic fuse's proven time-delay characteristic safely handles harmless starting currents and inrush currents associated with today's motors and transformers.
Features/Benefits
Solid State SmartSpot Indicator
Time delay for motor start-ups and transformer inrush currents without nuisance opening
Current limiting for low peak let-thru current
Rejection-style design prevents replacement errors (when used with recommended fuse blocks)
Easy-to-read label for quick recognition and replacement
Metal-embossed date and catalog number for traceability and lasting identification
Fiberglass body provides dimensional stability in harsh industrial settings
Brass end-caps (blade-style) for cooler operation and superior performance
High-grade silica filler ensures fast arc quenching and high current limitation
Ratings
TR
AC: 1/10 to 600A  250VAC, 200kA I.R.
DC: 1/10 to 2 8/10A and 35 to 400A, 250VD, 20 A.I.R
3 to 30A & 450 to 600A,
160VDC, 20kA I.R.
TRS
AC: 1/10 to 600A, 600VAC, 200kA I.R.
DC: 1/10 to 12A, 600VDC, 20kA I.R.
70 to 600A, 600VDC, 100kA I.R.
15 to 60A, 300VDC, 20kA I.R.
Highlights
Time Delay
Current Limiting
AC & DC Rated
Applications
Motor Circuits
Mains
Feeders
Branch Circuits
Transformers
Service Entrance Equipment
General-purpose Protection
Approvals
T2989T2955
UL Listed to Standard 248-12
CSA Certified to Standard C22.2 No. 248.12
DC Listed to UL Standard 198L
Generally all of our products are in stock and ready to ship within 2 business days.
If an item you ordered is out of stock, we will contact you within 1 business day with an expected ship date. You will then have the option to accept the new ship date or cancel your order.
Either way, we guarantee your card will never be charged until your order ships.