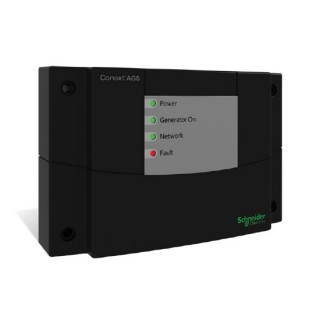 Schneider Electric 865-1060-01 Conext Automatic Generator Start Module
AGS, For Conext XW, XW+ and SW, RNW865106001
---
Item # 1510-005
---
Schneider Electric 865-1060-01 Conext Automatic Generator Start Module, AGS, For Conext XW, XW+ and SW, RNW865106001
The ConextTM Automatic Generator Start (AGS) Module can automatically activate or stop a generator in response to changing power requirements. An excellent addition to an off-grid or backup power system, the AGS seamlessly connects to the XanbusTM network and shares status information with all other devices on the network. It can monitor a set of system user-programmable parameters such as battery voltage, state of charge or grid power and can activate the generator in response to any changes. The AGS can also be configured remotely using the Conext System Control Panel (SCP) or Conext ComBox to engage a generator, and can assist an inverter/charger when output power demands are high.
Intelligent Power Management
Automatically activates generator to provide power to recharge depleted battery bank or power heavy loads
Compatible with Popular Generators
2 or 3 wire start control, AC or DC
Features:
Flexible
Works with multiple Xanbus devices - Conext XW, SW, MPPT 60-150, MPPT 80-600, SCP, ComBox
User-programmable trigger settings to meet specific application needs such as:
   - Battery voltage
   - Exercise time
   - Inverter / charger AC power loads
   - SOC
   - Quiet time
Supports manual start and stop operation modes
Built-in emergency shutdown
Easy to Service
Access and troubleshoot AGS device events using the Conext ComBox or SCP
Easily upgrade new firmware to the AGS using the ComBox
Easy to Install
Wall mount
RJ45 connections for Xanbus network cables
The specifications document is loading.
Generally all of our products are in stock and ready to ship within 2 business days.
If an item you ordered is out of stock, we will contact you within 1 business day with an expected ship date. You will then have the option to accept the new ship date or cancel your order.
Either way, we guarantee your card will never be charged until your order ships.