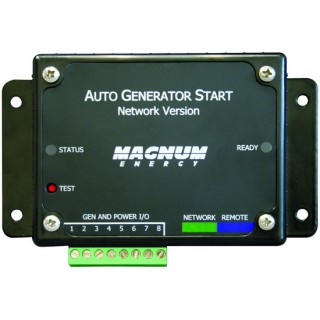 Magnum Energy ME-AGS-N Automatic Generator Start Module
3-Relay with Voltage & Temp Start/Network Version
---
Item #

1510-001
---
Magnum Energy ME-AGS-N Automatic Generator Start Module, 3-Relay with Voltage & Temp Start/Network Version
Automatic Generator Start Module for use with RV, marine, and standby generators.
The ME-AGS-N is the "network" version that allows operation via a Magnum Energy Inverter and ME-RC50 remote panel.
Automatically start your generator: The Magnum Auto Gen Start (AGS) is designed to automatically start your coach generator based on low battery condition or the inside temperature of the coach.
Adjust the AGS to meet your needs: With the AGS, you can set the battery start voltage from 10 to 12 VDC or 20 to 22 VDC, the start temperature from 65F to 85F, the run time from one to five hours, and the quiet time with an easy-to-set clock.
Manual start and stop: Auto Gen Start settings do not interfere with the manual start / stop operation of the generator. Just use any existing start / stop switch in your coach.
The network version of the AGS allows operation of the AGS via the ME Series remote panel.
Selectable cabin temperature for gen start: 65 to 85F
Selectable battery voltage for gen start: 10 to 12 VDC or 20 to 22 VDC
Selectable generator run time: 1 to 5 hours
Selectable quiet time: 5 choices: 9PM to 7 AM, 9 PM to 8AM, 9PM to 9AM, 10PM to 8AM, 11PM to 8AM
Clock: Adjustable 24-hour clock
Weight: 1 lbs (0.5 kg)
Dimensions: 3.0" x 5.2" x 1.5" (76 x 132 x 33 mm)
Generally all of our products are in stock and ready to ship within 2 business days.
If an item you ordered is out of stock, we will contact you within 1 business day with an expected ship date. You will then have the option to accept the new ship date or cancel your order.
Either way, we guarantee your card will never be charged until your order ships.