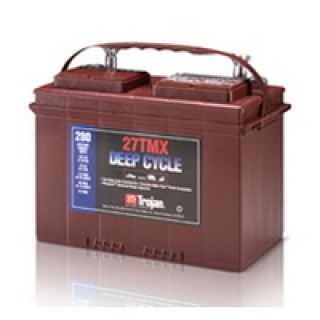 Trojan Battery 27TMX Deep-Cycle Flooded
12V, 105Ah, Group 27, WNT Terminal
---
Item #

1840-044
---
Trojan Battery 27TMX Deep-Cycle Flooded, 12V, 105Ah, Group 27, WNT Terminal
Features:
Trojan's proprietary Maxguard® Advanced Design Separator and exclusive Alpha Plus® paste formulation team up to increase battery life, extend run time and decrease maintenance.
Durability, reliability and proven technology mean you can depend on Trojan batteries for consistent performance day in and day out.
Outstanding technical support is available on the phone or on the web.
Type: 27TMX
Weight lbs (kg): 55 (25)
Dimensions (L x W x H): 12-3/4" x 6-3/4" x 9-3/4" / 324 x 171 x 248 mm
Capacity Minutes
Cranking
Performance

5 Hr
Rate AH

 

20 Hr
Rate AH

Voltage

Terminal

@25
Amps

@56
Amps

@75
Amps

CCA
@ 0°F

CA
@ 32°F

175

-

45

530

650

85

105

12

WNT, LT
Generally all of our products are in stock and ready to ship within 2 business days.
If an item you ordered is out of stock, we will contact you within 1 business day with an expected ship date. You will then have the option to accept the new ship date or cancel your order.
Either way, we guarantee your card will never be charged until your order ships.