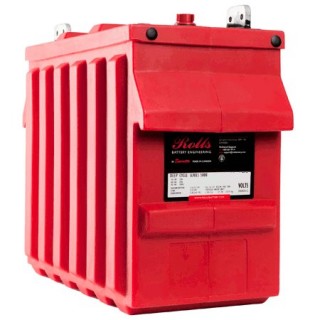 Surrette Rolls 6-CS-17P Flooded Battery
6V, Deep Cycle, 546Ah @ 20hr, Flag RR Terminal
---
Item #

1840-096
---
Surrette Rolls 6-CS-17P Flooded Battery, 6V, Deep Cycle, 546Ah @ 20hr, Flag RR Terminal
Rolls batteries are manufactured in Nova Scotia, Canada by the Surrette Battery Company, who have been in the battery manufacturing business since 1935. Rolls Battery specializes in the production of deep cycle batteries for many market sectors, in particular Renewable Energy and Remote Stand By Power operations. Relied on worldwide, Rolls batteries are internationally recognized for their dependability and rugged construction providing energy storage in the most challenging environments. Rolls is not only known for the outstanding quality of their batteries, but also the continual advances in process, dedicated work force and unrivaled commitment to sustainability.
5000 Series
The 5000 Series of batteries are a good choice for medium and large sized battery banks and are manufactured specifically for Solar and other renewable energy applications. The 4V, 6V, 8V and 12V Batteries come in a wide range of amp hour capacities to allow you to design the right sized battery bank for your application. They can be wired in series to increase the voltage to 12, 24 or 48 Volt and also wired in parallel to increase the amp hour capacity of the battery bank. We recommend no more than 3 or 4 strings of batteries in parallel. The 5000 Series of batteries come in a dual-container and are high-capacity batteries with a heavy-duty plate grid to resist positive plate breakdown. The plates are double insulated with a glass mat and a polyethylene envelope to prevent separator misalignment, cracked separators, treeing, or shorting at the bottoms or sides. Rolls batteries are rated at 2,100 cycles at 80% depth of discharge. Each 2 VDC cell is built into its own lightweight container made of durable polypropylene with the cover thermally bonded to the container to prevent acid leakage. The cells are then assembled into a tough, lightweight polyethylene outer container with a removable lid. Even if the outer case is broken, the battery remains operable and spill-free. The individual cells of the CS and KS series are bolted together, allowing the battery to be disassembled. The cells can be independently removed, which facilitates easy on-site installation, disassembly, assembly, or replacements of individual cells without special skills or  tools. All 5000 Series Rolls Batteries, including the CS & KS models, come with a 10-year limited warranty, 3-year full warranty, and 7-year prorated warranty.
Features
Less Maintenance
Widest Range of Specifications Available
Computer Controlled Formation
Modular Dual Container Construction - No Acid Leakage
Greater Durability - Robotically Welded
The specifications document is loading.
Generally all of our products are in stock and ready to ship within 2 business days.
If an item you ordered is out of stock, we will contact you within 1 business day with an expected ship date. You will then have the option to accept the new ship date or cancel your order.
Either way, we guarantee your card will never be charged until your order ships.