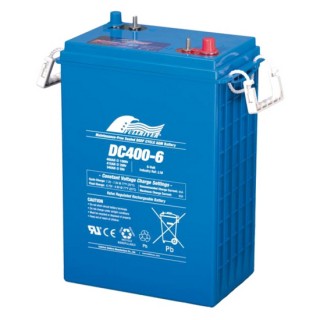 Fullriver DC400-6 Sealed AGM Battery
6V, 415Ah, Group L16/903, DTW Terminal
---
Item # 1820-040
---
Fullriver DC400-6 Sealed AGM Battery, 6V, 415Ah, Group L16/903, DTW Terminal
Maintenance-Free, Deep-Cycle, Sealed AGM Batteries
Fullriver produces only fully sealed, maintenance-free, non-hazardous and non-spillable batteries that will provide a cleaner and greener alternative to conventional wet/flooded batteries which are filled with liquid sulfuric acid which can spill or leak if the plastic case is punctured. Consumers and industries around the globe are becoming more environmentally conscious and Fullriver is proud to be able to give you the peace of mind that you are helping to provide a clean and green solution to your energy need paired with the performance and power you are looking for.
Fullriver DC400-6 Sealed AGM batteries are designed to be deeply discharged and recharged hundreds of times. They are designed and built differently than automotive starting batteries. When it comes to Deep Cycle batteries, the details matter. Fullriver uses more lead, heavier plates and other proprietary materials that enable them to deliver more power and capacity of many life cycles. Deep cycle batteries are used in many applications including: Boats, RV's, Solar and Wind Power, Electric Vehicles, Electric Golf Carts and many more. Fullriver's DC Series batteries provide the performance and life of a true deep cycle battery with all of the convenience and benefits of being maintenance free & non-hazardous.
Features
Maintenance-free, spill-proof, sealed construction provides an environmentally friendly, non-hazardous battery that is DOT, IATA, ICAO and IMDG approved for land, sea and air transportation.
Environmentally conscience, jar-formed, high-density plates undergo a 10-day curing process for superior bonding of the paste to the heavy duty lead, calcium and tin grids ensures fully formed, voltage matched plates for long life, true deep cycle functionality and recovery.
Compression of highly micro-porous, glass mat separator provides superior contact between electrolyte and plates for maximizing capacity while providing extreme shock & vibration resistance.
The fire retardant ABS case, cover resins and epoxy seals combined to form a truly safe, sealed battery that is non-hazardous, highly durable and capable of being mounted in any direction except inverted.
Fullriver Battery Breakdown - Battery Equipment
The specifications document is loading.
Generally all of our products are in stock and ready to ship within 2 business days.
If an item you ordered is out of stock, we will contact you within 1 business day with an expected ship date. You will then have the option to accept the new ship date or cancel your order.
Either way, we guarantee your card will never be charged until your order ships.