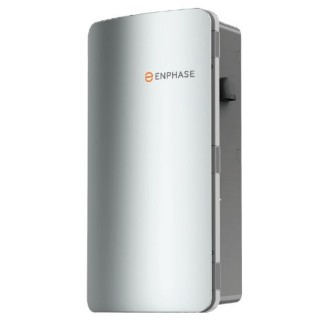 Enphase EP200G101-M240US00 Enpower Smart Switch
With 200A Capacity, Neutral Forming Transformer, Microgrid Interconnect Device (MID), 120/240VAC, NEMA 3R
---
Item # 1810-017
---
Enphase EP200G101-M240US00 Enpower Smart Switch, With 200A Capacity, Neutral Forming Transformer, Microgrid Interconnect Device (MID), 120/240VAC, NEMA 3R
Enphase Storage - When the grid is down, you have power and when the grid is up, you can save money.
The Enphase Ensemble system provides an end-to-end AC-coupled solution with no high voltage DC batteries, using a simple plug-n-play distributed architecture that makes installation quick and easy. The Enphase Ensemble can be configured to support partial or whole home backup. The Enphase Enpower™ EP200G101-M240US00 Smart Switch is used in the Ensemble system to streamline installations by providing grid isolation and locations to connect Enphase Encharge batteries, Enphase Combiner, and also offers the ability to add a generator if desired (at a later date). The Enpower includes one two-pole 40A circuit breaker that feeds the Neutral Forming Transformer (NFT), a Microgrid Interconnect Device (MID) and an Eaton BR series busbar assembly that can support up to a 200A main breaker and is rated to 120/240 VAC. Circuit breakers (sold separately) should be selected, installed and configured to your specific installation following all NEC and local electrical codes.
NOTE: This unit is only compatible with the IQ6 &IQ7 series of micronverters and is NOT compatible with the IQ8 series of micronverters. 
Features
Reliable
Durable NEMA type 3R enclosure
Ten-year limited warranty
Smart
Controls safe connectivity to the grid
Automatically detects grid outages
Provides seamless transition to backup
Simple
Connects to the load or service equipment¹ side of the main load panel
Centered mounting brackets support single stud mounting
Supports conduit entry from the bottom, bottom left side, and bottom right side
Supports whole home and partial home backup and subpanel backup
Up to 200A main breaker support
Includes neutral-forming transformer for split phase 120/240V backup operation
Additional Equipment (Sold Separately)
Ensemble Technology Introduction
Ensemble™ Energy Management Technology
The specifications document is loading.
Generally all of our products are in stock and ready to ship within 2 business days.
If an item you ordered is out of stock, we will contact you within 1 business day with an expected ship date. You will then have the option to accept the new ship date or cancel your order.
Either way, we guarantee your card will never be charged until your order ships.