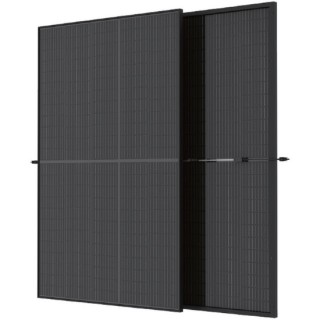 Trina TSM-390-DE09C.07 Bifacial Solar Panel
390W, MC4, 30mm Black Frame, Transparent Backsheet, 120 Half Cell Mono, 25A Fuse, 1500VDC, 363.7W PTC
---
Item # 1110-164
---
Trina TSM-390-DE09C.07 Bifacial Solar Panel, 390W, MC4, 30mm Black Frame, Transparent Backsheet, 120 Half Cell Mono, 25A Fuse, 1500VDC, 363.7W PTC
The Vertex S Backsheet - Smaller panels, bigger power generation for residential solar
The first ultra-high power module type specifically designed for residential applications, the Vertex S module series provides unparalleled value, aesthetics, and reliability for homeowners while offering layout flexibility, several mounting options, and widespread component compatibility for homeowners and installers. Trina Solar's TSM-390-DE09C.07 Bifacial (Vertex S Backsheet) Solar Panel is ideal for many different installations where shading is a concern and aesthetics is important. The cell string layout and split J-box location provides higher efficiency by reducing energy loss caused by inter-row shading. The half-cell layout (120 monocrystalline) also lowers cell connection power losses. It is a highly productive module at 20.3% maximum efficiency and a +5W positive power tolerance. Because of the advanced surface texturing, back surface field and selective emitters, you will get excellent low light performance on cloudy days, morning and evenings.
As a leading global manufacturer of next generation photovoltaic products, Trina Solar believes close cooperation with their partners is critical to success. With local presence around the globe, Trina Solar is able to provide exceptional service to each customer in each market and supplement their innovative, reliable products with the backing of Trina as a strong, bankable partner. The backbone of Trina Solar's success is being committed to building strategic, mutually beneficial relationships with installers, developers, distributors and homeowners, driving smart energy together. Trina Solar guarantees their module output to be at or above its nameplate wattage and also back every module with a 25-year product and 25-year linear power output warranty.
Features
High value
More productivity from same roof size.
Outstanding visual appearance.
Leading 210mm cell technology.
Small in size, big on power
Small format module allows greater energy generation in limited space.
Up to 405W, 21.1% module efficiency with high density interconnect technology.
Multi-busbar technology for better light trapping effect, lower series resistance and improved current.
Reduce installation cost with higher power bin and efficiency.
Boost performance in warm weather with lower temperature coefficient (-0.34%) and operating temperature.
Universal solution for residential and C&I rooftops
Designed for compatibility with existing mainstream optimizers, inverters and mounting systems.
Perfect size and low weight makes handling and transportation easier and more cost-effective.
Diverse installation solutions for flexibility in system deployment
High Reliability
25-year product warranty.
25-year performance warranty with lowest degradation.
Minimized micro-cracks with innovative non-destructive cutting technology.
Ensured PID resistance through cell process and module material control.
Mechanical performance up to +6000 Pa and-4000 Pa negative load
The specifications document is loading.
Generally all of our products are in stock and ready to ship within 2 business days.
If an item you ordered is out of stock, we will contact you within 1 business day with an expected ship date. You will then have the option to accept the new ship date or cancel your order.
Either way, we guarantee your card will never be charged until your order ships.