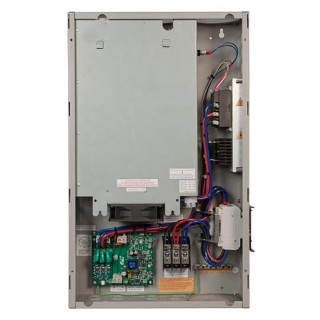 MidNite Solar MNCLIP4KAC AC Clipper
4000W AC Limiter for all Classic Charge Controllers
---
Item # 2620-001
---
MidNite Solar MNCLIP4KAC AC Clipper, 4000W AC Limiter for all Classic Charge Controllers
The MidNite Clipper is designed to control Wind or Hydro turbines and work with the Classic to charge your battery. The Clipper communicates with the Classic Charge Controller to slow the turbine when the batteries are full, and also contains a stand alone self powered adjustable max VOC limiting circuit. The AC Clipper is designed to work with AC turbines and was designed for 3-4kw maximum turbines. The AC Clipper comes standard with 1.6 ohms of resistance per phase. MidNite Solar can custom build other resistance values upon request and have designed an easy to change resistor insert for the Clipper allowing changes in the field.

NOTE FOR ORDERING: The 4,000 watt AC Clipper is available in several different resistance values per phase to allow you to tailor it to your specific turbine. The standard values available are 0.4, 1.0, 1.6 and 4.0 ohms per phase. Please note the value to the part number MNCLIP4KACX.X (For Example MNCLIP4KAC1.6) in the Special Instructions Box at checkout. The Clipper is designed to work with various MidNite Classic Charge Controller's depending on your system requirements.
The specifications document is loading.
Generally all of our products are in stock and ready to ship within 2 business days.
If an item you ordered is out of stock, we will contact you within 1 business day with an expected ship date. You will then have the option to accept the new ship date or cancel your order.
Either way, we guarantee your card will never be charged until your order ships.