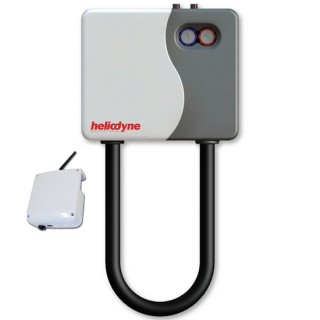 Heliodyne HPAK 016-002 Helio-Pak 16 Heat Transfer Appliance with Pro Lite WIFI
For Up To 96 SF of GOBI Collector Area
---
Item #

2320-005
---
Heliodyne HPAK 016-002 Helio-Pak 16 Heat Transfer Appliance with Pro Lite WIFI, For Up To 96 SF of GOBI Collector Area
HELIO-PAK HEAT-TRANSFER APPLIANCE WITH DELTA-T PRO LITE WIFI
The Helio-Pak (HPAK) is an all-in-one closed loop heat-transfer appliance, specifically designed to simplify solar hot water systems, and provide maximum heat transfer. The HPAK comes factory assembled, and wired with all necessary components, making installation a trouble-free experience. With its unique design, the SRCC rated its performance as being 25% more efficient than conventional internal heat exchangers.
A major benefit the Helio-Pak provides is that it attaches directly onto the hot water tank. As a result, under certain conditions, the HPAK can be mounted onto a pre-existing water tank, thereby reducing costs. This is a feature no other solar hot water heat-exchanger on the market can offer.
Features
Augmented heat exchanger surface promotes maximum heat generation
Superior heat transfer via unique counterflow design
25% more efficient than conventional internal heat exchangers
Under certain conditions, can mount to existing tank
"Plug & Play" installation
Factory tested to 300 psi
Viewable heat exchanger leak detection
Several sizes available for differing loads
DELTA-T PRO LITE WEB MONITORING CONTROLLER
Pro Lite controllers come standard with the ability to communicate via a web monitoring system which allows the installer or end user access to the solar hot water system controller from anywhere with an internet connection. By simply logging onto a dedicated website for the controller, the user can view and make system adjustments miles away from the actual solar hot water system. The Pro Lite controller comes pre-installed with software allowing the controller to record and monitor energy data for the life of the system.
Features
2 program configurations available (open loop DHW, closed loop DHW)
2 thermistor sensor and 2 pump relays
Remote web-based system monitoring and settings
Automated service reminders
Stored energy data (BTU, °F, GPM)
System Requirements
DSL, cable or other broadband internet connection
Open, WPA or WPA2 network authentication/encryption Wi-Fi router (WEP not supported)
Internet browser (e.g. Firefox, Chrome, Safari)
Flow sensor installed for energy monitoring
The specifications document is loading.
Generally all of our products are in stock and ready to ship within 2 business days.
If an item you ordered is out of stock, we will contact you within 1 business day with an expected ship date. You will then have the option to accept the new ship date or cancel your order.
Either way, we guarantee your card will never be charged until your order ships.