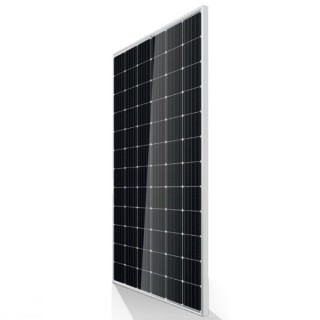 Trina TSM-380-DE14A(II) Solar Panel
380W, TS4, 40mm Clear Frame, White Backsheet, 72 Cell Mono PERC, 20A Fuse, 1500VDC, 353.6W PTC
---
Item #

1110-074
---
Trina TSM-380-DE14A(II) Solar Panel, 380W, TS4, 40mm Clear Frame, White Backsheet, 72 Cell Mono PERC, 20A Fuse, 1500VDC, 353.6W PTC
Founded in 1997, Trina Solar (NYSE: TSL) has established itself as a leading global manufacturer of the next generation photovoltaic products. They believe close cooperation with their partners is critical to success. With local presence around the globe, Trina is able to provide exceptional service to each customer in each market and supplement their innovative, reliable products with the backing of Trina as a strong, bankable partner. They are committed to building strategic, mutually beneficial projects with installers, developers, distributors and other partners which is the backbone of their success in driving Smart Energy.
The TSM-380-DE14A(II) Tallmax Plus module is ideal for large scale installations, but can also be used in residential applications. It is certified 1500V UL/IEC. This high power footprint maximizes output and also reduces installation time. It is a highly productive module at 19.5% maximum efficiency and a +5W positive power tolerance. Because of the advanced surface texturing, back surface field and selective emitters, you will get excellent low light performance on cloudy days, morning and evenings.
Features
Certified to withstand challenging environmental conditions
2400 Pa wind load and 5400 Pa snow load
35mm hail stones at 97 km/h
PID resistant
Module coating resistant to sand, acid and alkali
Ideal for large scale and residential installations
1500V UL/IEC certified
High power footprint reduces installation time and balance of system costs
One of the industry's most trusted modules
Field proven performance
Strong and reliable manufacturer
Stringent quality control
Over 30 in-house tests
100% EL double inspection
The specifications document is loading.
Generally all of our products are in stock and ready to ship within 2 business days.
If an item you ordered is out of stock, we will contact you within 1 business day with an expected ship date. You will then have the option to accept the new ship date or cancel your order.
Either way, we guarantee your card will never be charged until your order ships.