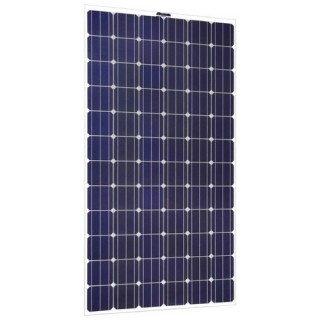 Sunpreme Maxima GxB-370 Bifacial Solar Panel
370W, MC4 or MC4-Compatible, Hybrid Cell Technology (HCT), 72 Cell, Frameless, 6mm Tempered Double Glass, 15A, 1000VDC, 349.3W PTC
---
Item #

1110-317
---
Sunpreme Maxima GxB-370 Bifacial Solar Panel, 370W, MC4 or MC4-Compatible, Hybrid Cell Technology (HCT), 72 Cell, Frameless, 6mm Tempered Double Glass, 15A, 1000VDC, 349.3W PTC
Sunpreme Maxima GxB-370 Bifacial modules use a patented SmartSilicon Hybrid Cell Technology (HCT) platform technology that utilizes enabling thin-film materials on surface engineered Silicon substrate to achieve high-efficiency power output and reliable energy production for increased project returns. As temperatures rise, this hybrid cell technology produces more power (kW) than conventional crystalline silicon solar panels at the same elevated temperature. Bifacial technology generates power from both the front and back faces of the module, resulting in up to 20% higher energy harvest (kWh). Supreme's HCT cells, which are packaged in frameless double glass modules are designed for durability, yield higher power and do not suffer from light-induced degradation (LID) or potential induced degradation (PID). Unlike conventional silicon or thin-film technologies, Sunpreme uses a highly-scalable process to deliver high output solar power at very competitive Levelized Cost of Energy (LCOE). The Maxima GxB-370 Bifacial module is Certified to international certification body standards: IEC, UL, and CEC listed. Manufactured according to the International Quality Management System ISO9001.
Sunpreme is an innovative solar PV module manufacturer headquartered in Sunnyvale, California with manufacturing facilities in the United States** and China. We provide high quality, reliable and aesthetically superior modules to residential, commercial, and utility customers globally. Sunpreme solar systems are delivering clean energy on 5 continents.
**Sunpreme solar panels are designed and engineered in Silicon Valley, CA, USA.
Features
High Efficiency - 18% Module Efficiency (Mono-facial), 20% Efficiency with 10% Backside Power Boost, and over 21% with 20% Backside Power Boost
Bifacial Energy Boost - Harvests sun from the backside to increase power output up to 20%
Dual-Glass Frameless Design - Sunpreme Design is more robust, and does not require module grounding
The specifications document is loading.
Generally all of our products are in stock and ready to ship within 2 business days.
If an item you ordered is out of stock, we will contact you within 1 business day with an expected ship date. You will then have the option to accept the new ship date or cancel your order.
Either way, we guarantee your card will never be charged until your order ships.