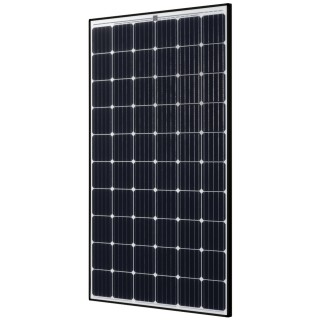 SolarWorld Sunmodule Plus SW300 Mono Black Frame Solar Panel
300W, H4/UTX, 33mm Black Frame, White Backsheet, 60 Cell Mono PERC, 20A Fuse, 1000VDC, 273.1W PTC
---
Item #

1110-339
---
SolarWorld Sunmodule Plus SW300 Mono Black Frame Solar Panel, 300W, H4/UTX, 33mm Black Frame, White Backsheet, 60 Cell Mono PERC, 20A Fuse, 1000VDC, 273.1W PTC
SolarWorld Sunmodule® Plus SW300 Mono Black Frame solar panels meet SolarWorld's stringent quality standards and meet and exceed all industry standards and certifications. This module also comes with a 20 year product and 25-year linear warranty guaranteeing maximum performance throughout the lifetime of your system. The Sunmodule® Plus SW300 Mono Black Frame Solar Panel also utilizes advanced cell technology called Light Capture and Energy Conversion Solar Technologies which was developed by SolarWorld. This technology makes higher power possible by optimizing, capturing and converting more light into energy. SolarWorld's state-of-the-art automation allows them to deploy selective emitter cell technology. Then laser precise grooves under each finger of the cell to allow them to apply an extra dose of negative doping. This extra doping pulls more electrons to the fingers and bus bars resulting in higher energy output. But don't just take SolarWorld's word for it, they've gotten a 3rd party validation of their performance and reliability.
SolarWorld's foundation is built on more than 40 years of ongoing innovation, continuous optimization and technology expertise. All production steps from silicon to module are established at SolarWorld production sites ensuring the highest possible quality for their customers. SolarWorld modules come in a variety of different sizes and power, making them suitable for all global applications – from residential solar systems to large-scale power plants.
Features
Extremely tough and stable, despite its light weight – able to handle loads up to 178 psf (8.5 kN/m²)
Watts+ guarantees our panels will produce at least the minimum advertised nameplate power
With CoAST Salt Resistance, installations on islands or near coastal areas are certified against salt corrosion
Perma-SilTM® J-Box sealing encloses critical electrical connections, protecting them against moisture intrusion
By capturing more light, OPTIGRIDTM® Cell Layout increases lifetime performance while also greatly increasing durability
Patented INFINITEE® Corners and Frame Technology are press-fit for superior strength and aesthetics and enhanced drainage
PowAR-TECH® Glass features the industry's best anti-reflective coating, capturing more light and increasing your panels' power
Long-term safety and guaranteed top performance – 25-year linear performance warranty; 20-year product warranty
The specifications document is loading.
Generally all of our products are in stock and ready to ship within 2 business days.
If an item you ordered is out of stock, we will contact you within 1 business day with an expected ship date. You will then have the option to accept the new ship date or cancel your order.
Either way, we guarantee your card will never be charged until your order ships.