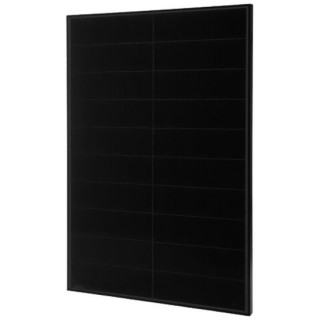 Solaria PowerXT-400R-PM Solar Panel
400W, MC4, 40mm Black Frame, Black Backsheet, Monocrystalline Cell, 20A Fuse, 1000VDC, 364.1W PTC
---
Item # 1110-144
---
Solaria PowerXT-400R-PM Solar Panel, 400W, MC4, 40mm Black Frame, Black Backsheet, Monocrystalline Cell, 20A Fuse, 1000VDC, 364.1W PTC
High Power 400W All-Black Solar Panel for Residential Applications
The Solaria PowerXT-400R-PM Solar Panel with Pure Black™ technology optimizes power, performance and aesthetics. This PowerXT panel utilizes Solaria's patented cell design, superior panel architecture and innovative assembly techniques to significantly boost power generation, provide superior shading performance, and set the standard for reliability. Traditional panels are made with surface areas that interrupt the capture of solar energy. Not the case with PowerXT. Solaria designed a patented cell cutting and advanced interconnect process to pack in more power and reduce inactive space between cells, allowing the panel to achieve over 20% efficiency. The patented design eliminates common failure points, improves shade tolerance and efficiency, and creates the most aesthetically pleasing solar panel on the market.
Features
Higher Efficiency, Higher Power - PowerXT panels achieve higher efficiency over conventional panels, making Solaria panels one of the highest power solar panels available. The PowerXT 400W solar panel outputs the most power of any residential all-black solar panel.
Enhanced Shade Performance - Sub-strings are interconnected in parallel, dramatically lowering the shading losses and increasing energy yield. Solaria PowerXT solar panels had generated 63.8% more energy than Competitor 1 and 82.5% more energy than Competitor 2 over an actual 70-day outdoor test.
Lower System Costs - Higher efficiency panels produce more power per square meter area, reducing the number of panels, balance of system components, and installation labor. The PowerXT 400W solar panel is also the lightest panel per square foot making it easier to manage on a rooftop.
Introducing the Ultimate in Beauty, Power & Performance
Established in 2000, the Solaria Corporation has created one of the industry's most respected IP portfolios, with over 250 patents encompassing materials, processes, applications, products, manufacturing automation and equipment. Headquartered in Oakland, California, Solaria has developed a technology platform that unlocks the potential of solar energy allowing it to be ubiquitous and universally accessed.
The specifications document is loading.
Generally all of our products are in stock and ready to ship within 2 business days.
If an item you ordered is out of stock, we will contact you within 1 business day with an expected ship date. You will then have the option to accept the new ship date or cancel your order.
Either way, we guarantee your card will never be charged until your order ships.