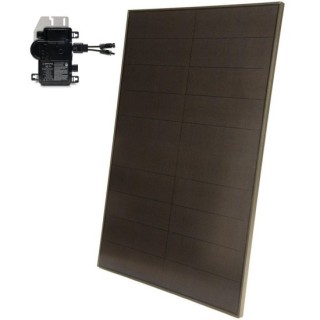 Solaria PowerXT-365R-AC Solar Panel
AC Module, 365W DC, With Enphase IQ7+ Microinverter, 240V/60Hz AC, 40mm Black Frame, Black Backsheet, 332.4W PTC
---
Item #

1110-088
---
Solaria PowerXT-365R-AC Solar Panel, AC Module, 365W DC, With Enphase IQ7+ Microinverter, 240V/60Hz AC, 40mm Black Frame, Black Backsheet, 332.4W PTC
The Solaria PowerXT®-365R-AC Solar Panel maximizes energy production by using a sophisticated Maximum Power Point Tracking (MPPT) algorithm. Each Enphase IQ7+ Microinverter is individually connected to one PV module in your array. This configuration enables an individual MPPT to control each PV module, ensuring that maximum power available from each PV module is exported to the utility grid regardless of the performance of the other PV modules in the array. While an individual PV module in the array may be affected by shading, soiling, orientation, or PV module mismatch, each Enphase Microinverter ensures top performance for its associated PV module. PV systems using Solaria PowerXT®-365R-AC Solar Panels are very simple to design and install. You will not need string calculations or cumbersome traditional inverters. Low voltage DC wires are pre-connected from the PV module directly to the co-located microinverter, eliminating the risk of personnel exposure to dangerously high DC voltage. Microinverter systems are inherently more reliable than traditional inverters. The distributed nature of a microinverter system ensures that there is no single point of system failure in the PV system. Enphase Microinverters are designed to operate at full power at ambient temperatures as high as 65º C (150º F). Once you install the Enphase IQ Envoy (sold separately) and provide an internet connection through a broadband router or modem, the Enphase IQ Microinverters automatically begin reporting to Enlighten. Enlighten presents current and historical system performance trends and informs you of PV system status.
Solaria PowerXT®-365R-AC Solar Panels are one of the highest power AC modules in the residential solar market, achieving up to 20% efficiency. Solaria PowerXT modules have fewer gaps between the solar cells which compared with competitor modules, leads to higher power and excellent aesthetics. Solaria PowerXT residential modules are also manufactured with black backsheet and frame which provide superior aesthetics on your roof.
Features
Higher Efficiency and Power - Solaria PowerXT modules achieve up to 20% efficiency - many other modules only achieve 15%–17% efficiency. The combination of the Solaria PowerXT AC Module and Enphase IQ7+ microinverter makes this one of the highest power and most efficient AC modules available.
Easy to Install - The integrated Enphase IQ7+ microinverter reduces installation time and costs by taking the complexity and guesswork out of designing systems and combining components in the field. Plus, they are also compliant with NEC 2014 & 2017 rapid shutdown requirements.
Smart Grid Ready - Meets CA Rule 21 and complies with advanced grid support, voltage and frequency ride-through requirements. Remotely updates to respond to changing grid requirements and is configurable for varying grid profiles.
Superior Aesthetics - Compared to conventional modules, the Solaria PowerXT®-355R-AC Module has a more uniform appearance and improved aesthetics.
Durability and Reliability - Industry leading 25 year warranty with a million hours of microinverter testing.
About Solaria
The Solaria Corporation, headquartered in Oakland, California, was founded in 2000 and since then has created one of the industry's most respected IP portfolios, with over 100 patents encompassing materials, processes, applications, products, manufacturing automation and equipment. Solaria has developed a technology platform that unlocks the potential of solar energy, making them one of the leaders in solar manufacturing worldwide.
The specifications document is loading.
Generally all of our products are in stock and ready to ship within 2 business days.
If an item you ordered is out of stock, we will contact you within 1 business day with an expected ship date. You will then have the option to accept the new ship date or cancel your order.
Either way, we guarantee your card will never be charged until your order ships.