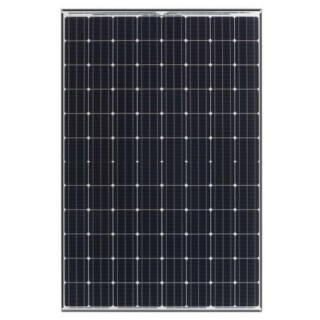 Panasonic VBHN330SA16 Solar Panel
330W, MC4, 35mm Black Frame, White Backsheet, 96 Cell HIT, 15A Fuse, 600VDC, 311.3W PTC
---
Item #

1110-320
---
Panasonic VBHN330SA16 Solar Panel, 330W, MC4, 35mm Black Frame, White Backsheet, 96 Cell HIT, 15A Fuse, 600VDC, 311.3W PTC
Panasonic has been a solar pioneer since the beginning of the green revolution. Starting over 40 years ago with the research and development of amorphous silicon solar cell in 1975. In 1997, the HIT® set the industry standard for conversion efficiency. Satisfied customers worldwide have come to trust and rely on Panasonic quality ever since.
The VBHN330SA16 solar panels are manufactured to perform at high temperatures without jeopardizing their quality or efficiency. This module offers the industry's leading performance and value, using state-of-the-art manufacturing techniques. The panel produces more output power than conventional crystalline panels. The solar modules are 100% emission free, have no moving parts and produce no noise. With the same number of panels installed on the roof, VBHN330SA16 can achieve up to 25% more system capacity compared to a conventional 260W crystalline panel.
Features
19.4% High Panel Efficiency
Obtain higher output and lower installation and balance of system costs than a conventional panel.
Pyramid Cell Structure Technology
Panasonic's unique Pyramid cell structure helps absorb more sunlight to generate power and provide higher efficiency vs. conventional crystalline structures which are more flat and reflects light.
High Testing Standards
Panasonic's testing criteria is much more severe than industry standards. Testing solar panels has been a longer term goal and assures safe operation for over 25 years.
Water Drainage Frame
Rain water is drained off the panel surface. This avoids not only water accumulation but also water stains after drying. Even in low-angle installations, the water drainage helps to keep the panel clean.
The specifications document is loading.
Generally all of our products are in stock and ready to ship within 2 business days.
If an item you ordered is out of stock, we will contact you within 1 business day with an expected ship date. You will then have the option to accept the new ship date or cancel your order.
Either way, we guarantee your card will never be charged until your order ships.