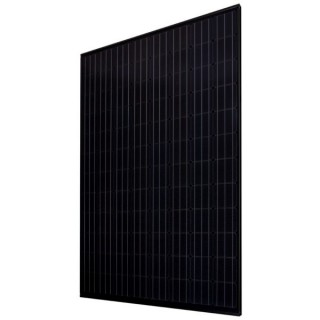 Panasonic VBHN325KA03 Solar Panel
325W, MC4, 40mm Black Frame, Black Backsheet, 96 Cell HIT, 15A Fuse, 600VDC, 302.4W PTC
---
Item #

1110-102
---
Panasonic VBHN325KA03 Solar Panel, 325W, MC4, 40mm Black Frame, Black Backsheet, 96 Cell HIT, 15A Fuse, 600VDC, 302.4W PTC
Panasonic has been a solar pioneer since the beginning of the green revolution. Starting over 40 years ago with the research and development of amorphous silicon solar cell in 1975. In 1997, the HIT® set the industry standard for conversion efficiency. Satisfied customers worldwide have come to trust and rely on Panasonic quality ever since.
Panasonic's unique heterojunction technology uses ultra-thin amorphous silicon layers. These thin dual layers reduce losses, resulting in higher energy output than conventional panels. The all new Panasonic VBHN325KA03 HIT® Black is an all-black, 96 Cell HIT module featuring high efficiency of 19.4%, industry leading temperature coefficient of -0.258% /°C and a sleek design. Powerful and aesthetic this panel is designed to make your roof look great and deliver more power in the same footprint as 60-cell panels. It also features a new 40mm frame that increases durability and strength for loads up to 5400Pa. HIT® modules employ a unique and effective pyramid structure that optimizes their ability to capture sunlight. By reducing outward reflection and directing sun rays inside the cell, HIT absorbs more sunlight than conventional panels. This allows the panel to produce solar power at a higher rate, which generates more electricity for your home. HIT® solar modules are also designed with thin amorphous silicon layers, reducing electron carrier loss to minimal levels. The result is a remarkably high-efficiency solar cell that produces greater energy output over the long term.
Features
Higher Efficiency 19.4%
Enables higher power output and greater energy yields. HIT® provides maximum production for your limited roof space.
High Efficiency at High Temperatures
As temperature increases, HIT® continues to perform at high levels due to the industry leading temperature coefficient of -0.258% /°C. No other module even comes close to our temperature characteristics. That means more energy throughout the day.
Quality and Reliability
Panasonic's vertical integration, 20 years of experience manufacturing HIT® and 20 internal tests beyond those mandated by current standards provides extreme quality assurance.
Low Degradation
HIT "N-type" cells result in extremely Low Light Induced Degradation (LID) and zero Potential Induced Degradation (PID) which supports reliability and longevity. This technology reduces annual degradation to 0.26% compare to 0.70% in conventional panels, guaranteeing more power for the long haul.
Enhanced Frame Design
A new 40mm frame increases durability and strength, being able to handle loads of up to 5400Pa. Also, the water drainage system gives rain water and snow melt a place to go, reducing water stains and soiling. Less dirt on the module means more sunlight getting through to generate power.
25 Year Product and Performance Warranty**
Industry leading 25 year product workmanship and performance warranty is backed by a century old company- Panasonic. Power output is guaranteed to 90.76% after 25 years, far greater than other companies.
** Installation needs to be registered through their website www.panasonicusahitwarranty.com within 60 days in order to receive twenty-five (25) year Product workmanship. Otherwise, Product Workmanship will be only fifteen (15) years.
The specifications document is loading.
Generally all of our products are in stock and ready to ship within 2 business days.
If an item you ordered is out of stock, we will contact you within 1 business day with an expected ship date. You will then have the option to accept the new ship date or cancel your order.
Either way, we guarantee your card will never be charged until your order ships.