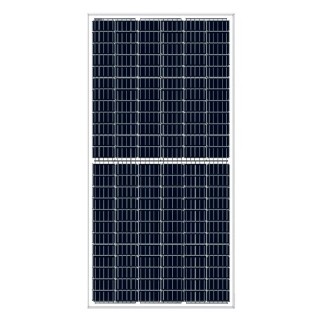 LONGi Solar LR6-72HPH-380M Solar Panel
380W, MC4, 35mm Clear Frame, White Backsheet, 144 Half Cell Mono-PERC, 20A Fuse, 1500VDC, 357.7W PTC
---
Item #

1110-087
---
LONGi Solar LR6-72HPH-380M Solar Panel, 380W, MC4, 35mm Clear Frame, White Backsheet, 144 Half Cell Mono-PERC, 20A Fuse, 1500VDC, 357.7W PTC
The LONGi Solar 144 Half Cell Mono-PERC Hi-MO3m LR6-72HPH-380M provides high reliability, production efficiency and higher power output along with lower hot spot temperature because of low working current. This design provides excellent performance even under a low temperature or low light environment guarantying a solid return on your investment. Half-cut cell technology actually cuts the cell into two seperate parts using an infrared laser, which cuts the working current in half. The thermal loss on the ribbon is dramaticaly reduced and the module's power increases by 2%. The combination of half-cut cell technology and bifacial module can amplify the gain over the effect of current-reduction further enhancing the module reliability. Following is a list of additional benefits of the Hi-MO3 Series design that make the LR6-72HPH-380M a great selection for any project.
Lower Hot Spot Temperature
Small area shadings can cause the temperature of those parts to be extremely high. This is called a hot spot. The long duration of a hot spot could bring irreversible degradation to the modules. Because the string current is half of full-cell modules, the hot spot temperature can be reduced. LONGi's experiments show that this reduction could be 10-20°C, which increases the module reliability.
Lower Operating Temperature
Half-cut cells cut the working current in half, dramatically reducing the thermal loss. Operating temperature correspondingly decreases, and the reliability of module is improved along with power gain.
Lower Shading Loss
Because of the unique parallel connection design, half-cell modules still have 50% power output under the circumstance of array shading in sunrise or sunset when in a portrait installation. In addition, half-cut technology can improve the output of the bifacial module under non-uniform incident illumination on the backside.
Higher Energy Yield Under High Irradiation Condition
Under high irradiation conditions, half-cell modules, especially bifacial half-cell modules, will have a higher energy yield compared with a conventional module. Bifacial half-cell modules will help to achieve the lowest LCOE in areas that are rich in sun radiation resources.
Features
Positive power tolerance (0- +5W) guaranteed
High module conversion efficiency of 19.0%
Better energy yield with excellent low irradiance performance and temperature coefficient
6 Busbar cells have better current collection ability
Solid PID resistance ensured by solar cell process optimization and careful module BOM selection
Adaptable to harsh environment: passed rigorous salt mist and ammonia tests
35mm frame withstands mechanical loading of 5400Pa for snow load on front side and 2400Pa for wind load on rear side
IEC 61215, IEC61730, UL1703 Certified
LONGi Solar is a world leading manufacturer of high-efficiency mono-crystalline solar cells and modules. The Company is wholly owned by LONGi Group. LONGi Group(SH601012) is the largest supplier of mono-crystalline silicon wafers in the world, with totally assets above $1.7 billion.(2016). Armed and powered by advanced technology and long standing experience of LONGi Group in the field of mono-crystalline silicon, LONGi Solar has shipped over 1GW products in 2015 and is estimated to double the revenue by the end of 2016. The company has its headquarters in Xi'an and branches in Japan, Europe, North America, India and Malaysia. With strong focus on R&D, production and sales & marketing of mono-crystalline silicon products, LONGi Solar is committed to providing the best LCOE solutions as well as promoting the worldwide adoption of mono-crystalline technology.
The specifications document is loading.
Generally all of our products are in stock and ready to ship within 2 business days.
If an item you ordered is out of stock, we will contact you within 1 business day with an expected ship date. You will then have the option to accept the new ship date or cancel your order.
Either way, we guarantee your card will never be charged until your order ships.