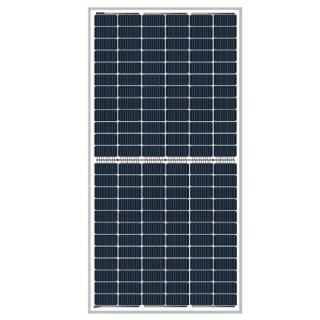 LONGi Solar LR4-72HBD-445M Solar Panel
445W, MC4, 35mm Clear Frame, Glass Backsheet, 144 Half Cell Bifacial Mono-PERC, 25A Fuse, 1500VDC, 417.3W PTC
---
Item # 1110-137
This item is only available for deliveries west of the Mississippi River.
---
LONGi Solar LR4-72HBD-445M Solar Panel, 445W, MC4, 35mm Clear Frame, Glass Backsheet, 144 Half Cell Bifacial Mono-PERC, 25A Fuse, 1500VDC, 417.3W PTC
High Efficiency, Low LID Bifacial PERC with Half-cut Technology
The LONGi Solar LR4-72HBD-445M solar panel provides front side performance equivalent to conventional low LID mono-PERC panels while the Bifacial technology enables additional energy harvesting of up to 25% more from rear side of the panel. The panel has a clear, short frame without a C side which reduces the shade caused by the frame. By using an M6 standard wafer and upgrading to 9BB, LONGi has further improved the power of this module. The Hi-MO4m high efficiency, low LID with half-cut Mono-PERC cells slow power degradation making this module an excellent performer in low-light irradiance environments. Reliable glass to glass encapsulation/lamination ensures a 30 year product lifetime. The framed module provides a front and back side maximum static loading of 5400Pa / 2400 Pa respectively making them suitable for all projects, including tracking systems.
NOTE: These panels come with 1400mm cables.
Features
Positive Power Tolerance
0~+5W positive tolerance of maximum power guaranteed.
Using M6 standard wafer, part of assembly line upgrade to 9BB, further improving power
High Conversion Efficiency
Efficiency of 20.5%.
Half-cut cell technology enables higher power and lower hot spot temperatures because of low working current.
Excellent Performance in Low Irradiance
Unique parallel connection design for more energy yield in case of shading.
Outstanding power output in low irradiance conditions, such as dawn, dusk and cloudy days.
Bifacial Technology
Enables additional energy harvesting from the rear side of up to 25%.
Anti-PID
The Anti-PID solar cell processing techniques and encapsulating material make these ideal for installation in hot and highly humid areas.
1st year degradation of less than 2%
Adaptability to the Harsh Environments
Excellent anti-salt mist and anti-ammonia capability make these adaptable to harsh seaside environments.
Well Designed
Great pressure resistance with the ability to bear 2400Pa wind load and 5400Pa snow load.
Robust 35mm frame
Split junction box supporting 1500V systems and with 1400mm cables
8 mounting holes for more mounting flexibilty and also with 400mm distance to match the horizontal single axis tracker
Glass/glass lamination ensures a 30 year product lifetime with annual power degradation < 0.45%
Features
12-year product warranty and 30-year linear warranty.
Certified to UL 1703, IEC 61215 and IEC 61730
Manufactured in an ISO 9001/14001 certified facility.
LONGi Solar is a world leading manufacturer of high-efficiency mono-crystalline solar cells and modules. The Company is wholly owned by LONGi Group. LONGi Group (SH601012) is the largest supplier of mono-crystalline silicon wafers in the world, with assets totaling $8.91 billion and revenues of $4.76 billion. Armed and powered by advanced technology and long standing experience of LONGi Group in the field of mono-crystalline silicon, LONGi Solar shipped over 9.1GW of products in 2020 ranking first in the world in mono-crystalline cell and module shipments for four consecutive years. The company has its headquarters in Xi'an and branches in Japan, Europe, North America, India and Malaysia. With a strong focus on R&D, production and sales & marketing of mono-crystalline silicon products, LONGi Solar is committed to providing the best LCOE solutions as well as promoting the worldwide adoption of mono-crystalline technology.
The specifications document is loading.
Generally all of our products are in stock and ready to ship within 2 business days.
If an item you ordered is out of stock, we will contact you within 1 business day with an expected ship date. You will then have the option to accept the new ship date or cancel your order.
Either way, we guarantee your card will never be charged until your order ships.