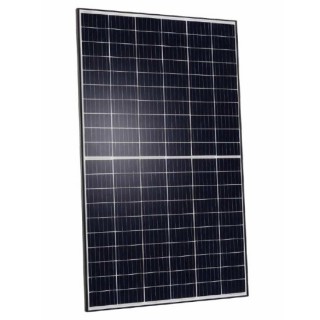 Hanwha Q CELLS Q.PEAK DUO-G6+ 350 Solar Panel
350W, MC4, 32mm Black Frame, White Backsheet, 120 Half Cell Mono, 20A Fuse, 1000VDC, 325.6W PTC
---
Item #

1110-115
---
Hanwha Q CELLS Q.PEAK DUO-G6+ 350 Solar Panel, 350W, MC4, 32mm Black Frame, White Backsheet, 120 Half Cell Mono, 20A Fuse, 1000VDC, 325.6W PTC
The new Q CELLS Q.PEAK DUO-G6+ 350 solar module provides particularly high performance on a small surface as a result of Q CELLS innovative Q.ANTUM DUO Technology. Q.ANTUM's world-record-holding cell concept is combined with state-of-the-art circuitry half cells and a six-busbar design, achieving outstanding performance under real conditions with both low-intensity solar radiation as well as on hot, clear summer days. Reduced distance in between the busbars and additional paths for electric current results in 1% power increase. More paths means lower congestion which in return reduces resistive losses. Halving the cell, halves the current which combined with a module layout that reduces the distance traveled by the electric current results in an increase of power by 3%. Utilizing wires instead of flat ribbons reduces both the width and the effective shading width decreasing shading by 75% and increasing the power by 2.5%. The light reflected from the round shape of the wires improves the light capturing effect of the module. Another unique and positive feature of half cells is that the upper and lower module section can operate independently, reducing the impact of shading and increasing energy yields.
The Q.ANTUM technology is based on Passivated Emitter Rear Cell (PERC) technology. PERC, by all means, allows for the passivation of the solar cell´s rear side, which involves installing a reflective layer, designed to capture previously unused sunlight back into the cell where it can be converted into solar electricity. The rear surfaces of Q.ANTUM solar cells are treated with a special nano coating that functions much like a typical household mirror. Rays of sunlight that would otherwise go to waste are reflected back through the cell to generate more electricity. Laser-fired contacts complement the nano coating to enhance the module's electrical properties, increasing its efficiency considerably.
Features
Q.ANTUM TECHNOLOGY: LOW LEVELIZED COST OF ELECTRICITY
Higher yield per surface area and lower BOS costs with higher power classes and an efficiency rate of 19.5%.
INNOVATIVE ALL-WEATHER TECHNOLOGY
Optimal yields, no matter the weather with excellent low-light and temperature performance.
ENDURING HIGH PERFORMANCE
Long-term yield security with Anti-PID Technology1, Hot-Spot-Protect and Traceable Quality Tra.Q™.
LIGHT-WEIGHT QUALITY FRAME - EXTREME WEATHER RATING
High-tech aluminum alloy frame, certified for high snow (5400 Pa) and wind loads (4000 Pa) regarding IEC.
A RELIABLE INVESTMENT
Inclusive 25-year product warranty and 25-year linear performance guarantee.2
STATE OF THE ART MODULE TECHNOLOGY
Q.ANTUM DUO combines cutting edge cell separation and innovative wiring with Q.ANTUM Technology.
1 APT test conditions: according to IEC/TS 62804-1:2015, method B (-1500 V, 168 h)
2 See data sheet for further information.
The specifications document is loading.
Generally all of our products are in stock and ready to ship within 2 business days.
If an item you ordered is out of stock, we will contact you within 1 business day with an expected ship date. You will then have the option to accept the new ship date or cancel your order.
Either way, we guarantee your card will never be charged until your order ships.