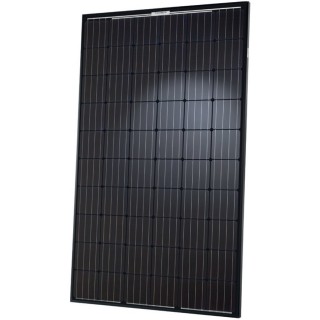 Hanwha Q CELLS Q.PEAK BLK-G4.1 290 Solar Panel
290W, MC4 Compatible, 32mm Black Frame, Black Backsheet, 60 Cell Mono, 20A Fuse, 1000VDC, 265.9W PTC
---
Item #

1110-321
---
Hanwha Q CELLS Q.PEAK BLK-G4.1 290 Solar Panel, 290W, MC4 Compatible, 32mm Black Frame, Black Backsheet, 60 Cell Mono, 20A Fuse, 1000VDC, 265.9W PTC
With its top performance and completely black design the new Q.PEAK BLK-G4.1 290 is the ideal solution for all residential rooftop applications thanks to its innovative Q.ANTUM cell technology. The world-record cell design was developed to achieve the best performance under real conditions - even with low radiation intensity and on clear, hot summer days. Only Q CELLS offers German engineering quality with their unique triple Yield Security.
Q.ANTUM Technology supercharges ordinary crystalline solar cells and modules. Unlike expensive high-end solar modules, Q.ANTUM does not involve a complex new cell design. No special system components are required. Q.ANTUM delivers exceptional performance under real-world conditions. Because no PV system sees direct sunlight every minute of every day, Q CELLS designed Q.ANTUM to generate more power when the sun is rising, setting or even behind clouds. You can also expect to see higher yields in the middle of hot and sunny summers and during clear fall and winter days, when the sun is not as high in the sky. Q CELLS decided to focus on all of the key determinants of performance, not just the ones that make their datasheets look good. By enhancing low-light performance and also the output of the modules across a range of temperatures, you will be sure to achieve higher profits.
Features
LOW ELECTRICITY GENERATION COSTS
Higher yield per surface area and lower BOS costs thanks to higher power classes and an efficiency rate of up to 18.3%.
INNOVATIVE ALL-WEATHER TECHNOLOGY
Optimal yields, whatever the weather with excellent low-light and temperature behavior.
ENDURING HIGH PERFORMANCE
Long-term yield security with Anti-PID Technology1, Hot-Spot-Protect and Traceable Quality Tra.Q™.
LIGHT-WEIGHT QUALITY FRAME
High-tech aluminum alloy frame, certified for high snow (5400 Pa) and wind loads (2400 Pa).
A RELIABLE INVESTMENT
Inclusive 12-year product warranty and 25-year linear performance guarantee2.
1 APT test conditions: Cells at -1000 V against grounded, with conductive metal foil covered module surface, 25 °C, 168 h (TÜV test conditions)
2 In accordance in with the Hanwha Q CELLS sales organization of your respective country.
The specifications document is loading.
Generally all of our products are in stock and ready to ship within 2 business days.
If an item you ordered is out of stock, we will contact you within 1 business day with an expected ship date. You will then have the option to accept the new ship date or cancel your order.
Either way, we guarantee your card will never be charged until your order ships.