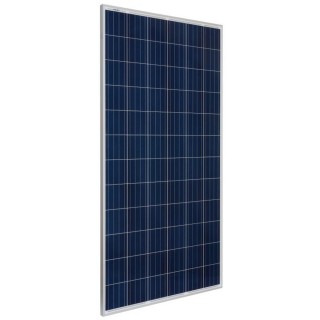 GCL GCL-P6/72 330 Solar Panel
330W, MC4 Compatible, 40mm Clear Frame, White Backsheet, 72 Cell Poly, 15A Fuse, 1000VDC, 297.9W PTC
---
Item #

1110-366
---
GCL GCL-P6/72 330 Solar Panel, 330W, MC4 Compatible, 40mm Clear Frame, White Backsheet, 72 Cell Poly, 15A Fuse, 1000VDC, 297.9W PTC
The GCL-P6/72 330 is a high efficiency multicrystalline module that is an ideal choice for ground installations or roof top installations where roof space is in abundance. The GCL manufacturing process selects encapsulating material and their stringent production process controls ensure the GCL-P6/72 330 is highly PID resistant and snail trail free. Only the best quality wafers and advanced cell technology is used in manufacturing so you can count on very high conversion efficiency. This module has also passed rigourous testing for sand blowing, salt mist and ammonia resistance so is an ideal choice for harsh enviornments. The GCL-P6/72 330 also offers additional yield with great performance in low light conditions and easy maintenance with highly transparent, self-cleaning glass.
Features
17.0% Maximum Module Efficiency
0-+5W Power Output Guarantee
World-class manufacturer of crystalline silicon photovoltaic modules
Fully automatic facility and world-class technology
Rigorous quality control to meet the highest standard: ISO9001:2008, ISO 14001: 2004 and OHSAS: 18001 2007
Tested for harsh environments (salt mist, ammonia corrosion and sand blowing test: IEC 61701, IEC 62716, DIN EN 60068-2- 68)
Long term reliability tests
2*100% EL inspection ensuring defect-free modules
Golden Concord Holdings Limited (GCL) is an integrated energy group that specializes in clean and new energy. GCL is the world's leading photovoltaic material manufacturer. Since its foundation, GCL has been committed to "bringing green power to life" by providing outstanding energy and services. GCL strives to be the most respected international clean energy group through innovations and its constant pursuit of excellence. For over twenty years, GCL has maintained a corporate philosophy that is characterized by entrepreneurship, innovation, competition and transcendence. Headquartered in Hong Kong, the group has subsidiaries in China, the United States, Canada, Singapore, Indonesia, Ethiopia, Djibouti and many other places in the world.
The specifications document is loading.
Generally all of our products are in stock and ready to ship within 2 business days.
If an item you ordered is out of stock, we will contact you within 1 business day with an expected ship date. You will then have the option to accept the new ship date or cancel your order.
Either way, we guarantee your card will never be charged until your order ships.