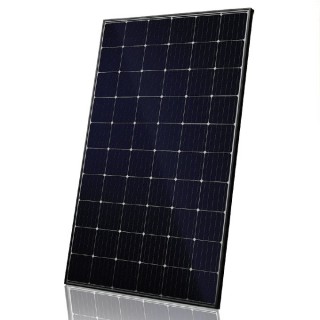 Canadian Solar CS6K-300MS Solar Panel
300W, T4, 35mm Black Frame, White Backsheet, 60 Cell Mono-PERC, 15A Fuse, 1000VDC, 275.6W PTC
---
Item #

1110-361
---
Canadian Solar CS6K-300MS Solar Panel, 300W, T4, 35mm Black Frame, White Backsheet, 60 Cell Mono-PERC, 15A Fuse, 1000VDC, 275.6W PTC
Canadian Solar's new 60-cell SuperPower CS6K-300MS module comes with a power output of 300W and a 5 bus bar cell design. Canadian Solar utilizes Mono-PERC cells in this module, significantly improving efficiency and reliability. PERC stands for Passivated Emitter Rear Contact and refers to the dielectric layer on the back of a PERC solar cell helping to reflect light, that passes through the cell and then back into the cell to generate more electrons. This process is also known as backside passivation. The CS6K-300MS offers superior low irradiance performance in the morning, in the evening and on cloudy days which increases the energy output of the panel and the overall yield of the solar system. A lower temperature coefficient is also touted for the new module which improves the module's per watt actual power output, while Light Induced Degradation (LID) is reduced by over 30%, compared to standard mono solar modules.
Canadian Solar Inc. is committed to providing high quality solar products, solar system solutions and services to customers around the world. As a leading PV project developer and manufacturer of solar modules with over 15 GW deployed around the world since 2001, Canadian Solar Inc. (NASDAQ: CSIQ) is one of the most bankable solar companies worldwide.
Features
Higher Energy Yield
Excellent performance in low light: up to 97.5%
11% more power than conventional modules
High PTC rating up to 91.90%
Increased System Reliability
Long-term system reliability with 1000V IP68 junction box
Enhanced system reliability in extreme temperature environment with special cell level stress release technology
Extra Value to Customers
35mm robust frame to hold a heavy snow load up to 6000 Pa and wind load up to 4000 Pa*
Anti-glare project evaluation
Salt mist, ammonia and blowing sand resistance, apply to seaside, farm and desert environments
*For detailed information, please refer to the Installation Manual found under the Documents tab.
The specifications document is loading.
Generally all of our products are in stock and ready to ship within 2 business days.
If an item you ordered is out of stock, we will contact you within 1 business day with an expected ship date. You will then have the option to accept the new ship date or cancel your order.
Either way, we guarantee your card will never be charged until your order ships.