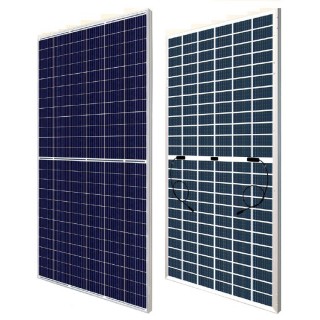 Canadian Solar BiHiKu CS3W-400PB-AG Bifacial Solar Panel
400W, MC4, 30mm Clear Frame, White Backsheet, 144 Half Cell Poly & Poly-PERC, Double Glass, Poly, 25A Fuse, 1000VDC, 373.6W PTC
---
Item #

1110-100
---
Canadian Solar BiHiKu CS3W-400PB-AG Bifacial Solar Panel, 400W, MC4, 30mm Clear Frame, White Backsheet, 144 Half Cell Poly & Poly-PERC, Double Glass, Poly, 25A Fuse, 1000VDC, 373.6W PTC
Super High Power Bifacial Poly-PERC Module - Up To 30% More Power From the Back Side
With Canadian Solar's industry leading Poly-PERC cell technology and the innovative LIC (Low Internal Current) module technology, global customers can now have high power poly modules up to 400+W.
The BiHiKu CS3W-400PB-AG Solar Panel is a Bifacial product producing power from the front and back sides for up to 30% more power from the back side and 24% more than conventional modules from the front. The bifacial technology also provides better shading tolerance. In addition, Canadian Solar is also producing this panel with 144 dual cell and poly and Poly-PERC technology. With the improved linear power output warranty and enhanced product warranty, the CS3W-400PB-AG Bifacial Solar Panel is ideal for any project.
Features
Higher power classes for equivalent module sizes
High module efficiency of 17.90-23.27%
Low hot spot temperature risk and lower internal current
Low temperature coefficient (Pmax): -0.37%/°C
Low power loss in cell connection
More power output thanks to low NMOT (Nominal Module Operating Temperature): 41± 3°C
Heavy snow and wind load capable at 5400 Pa and 2400 Pa respectively
Quality and Reliability
30 year linear power output warranty
12 year product warranty on materials and workmanship
Product Certificates
IEC 61215 / IEC 61730 / UL 1703 / IEC 61215
BiHiKu Canadian Solar's Poly Bifacial Solar Module
The specifications document is loading.
Generally all of our products are in stock and ready to ship within 2 business days.
If an item you ordered is out of stock, we will contact you within 1 business day with an expected ship date. You will then have the option to accept the new ship date or cancel your order.
Either way, we guarantee your card will never be charged until your order ships.