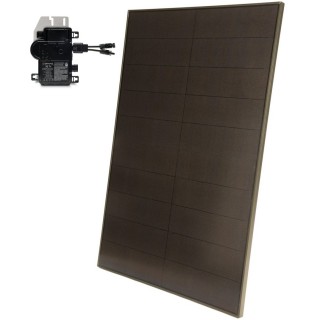 Solaria PowerXT-350R-AC-PT Solar Panel Pallet
25ea Min Purchase, XT-350R with Enphase IQ7+ Microinverter, 350W, 240V/60Hz AC, 40mm Black Frame, Black Backsheet, Monocrystalline, 318.2W PTC
---
Item #

1120-057
---
Solaria Pallet Savings
Save even more on RES Supply's every day low Solaria prices by purchasing a pallet. Or purchase multiple pallets to take advantage of our low $149 flat rate shipping. If you need assistance selecting additional parts for your system, add our design service – free with a full system purchase. We can even help with the permit process when you order one of our permit packages. Our great service combined with the low price on the PowerXT-350R-AC-PT Pallet is a value that can't be beat.
PowerXT-350R-AC-PT Pallet
The Solaria PowerXT AC Module combines the latest cutting-edge microinverter technology from Enphase with the premium high-efficiency and superior aesthetics of the Solaria PowerXT Module. Utilizing the latest Enphase IQ7+ platform, the PowerXT-350R-AC-PT Pallet puts aesthetics and performance together into an elegant user-friendly package that reduces installation time by combining the inverter, module and monitoring.
Achieving up to 20% efficiency, Solaria PowerXT solar modules are one of the highest power AC modules in the residential solar market. Compared to conventional modules, Solaria PowerXT modules have fewer gaps between the solar cells; this leads to higher power and superior aesthetics. Solaria PowerXT residential modules are manufactured with black backsheet and frames, giving them a striking appearance.
Higher Efficiency, Higher Power
Solaria PowerXT modules achieve up to 20% efficiency; conventional modules achieve 15% – 17% efficiency. Combined with Enphase IQ7+ microinverter, the Solaria PowerXT AC Modules-is one of the highest power and most efficient AC modules available.
Easy to Install
The integrated Enphase IQ7+ microinverter reduces installation costs by taking the complexity and guesswork out of designing systems and combining components in the field. It is also compliant with NEC 2014 & 2017 rapid shutdown requirements.
Smart Grid Ready
Meets CA Rule 21 and complies with advanced grid support, voltage and frequency ride-through requirements. Remotely updates to respond to changing grid requirements and is configurable for varying grid profiles.
Superior Aesthetics
Compared to conventional modules, the Solaria PowerXT AC Module has a more uniform appearance and improved aesthetics.
Durability and Reliability
Industry leading 25 year warranty with a million hours of microinverter testing.
About Solaria
Established in 2000, The Solaria Corporation has created one of the industry's most respected IP portfolios, with over 100 patents encompassing materials, processes, applications, products, manufacturing automation and equipment. Headquartered in Fremont, California, Solaria has developed a technology platform that unlocks the potential of solar energy allowing it to be ubiquitous and universally accessed.
The specifications document is loading.
Generally all of our products are in stock and ready to ship within 2 business days.
If an item you ordered is out of stock, we will contact you within 1 business day with an expected ship date. You will then have the option to accept the new ship date or cancel your order.
Either way, we guarantee your card will never be charged until your order ships.