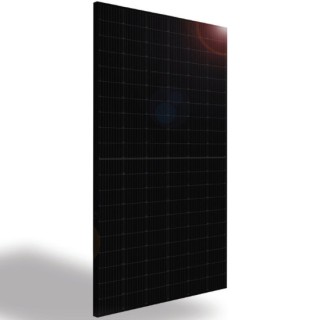 Silfab Solar SIL-370 HC-PT Solar Panel Pallet
26ea Min Purchase, 370W, MC4, 35mm Black Frame, Black Backsheet, 120 Cell Mono, 20A Fuse, 1000VDC, 339.9W PTC
---
Item # 1120-186
---
Silfab Solar Pallet Savings
Save even more on RES Supply's every day low Silfab Solar prices by purchasing a pallet. Or purchase multiple pallets to take advantage of our low $149 flat rate shipping.
SIL-370 HC-PT Pallet
Introducing Silfab Prime - Designed to outperform
Silfab Solar is the North American manufacturing leader in the design & development of ultra-high-efficiency, premium quality 60- and 72-cell monocrystalline PV modules. Silfab leverages over 40 years of solar experience spanning the entire vertical PV value chain including wafers, ingots, R&D, engineering and product innovation. As the largest and most advanced manufacturer in North America, Silfab's fully automated facility utilizes precision engineering to produce superior reliability and performance with the lowest defect rate in the US. Silfab provides value to the residential and commercial customer who want domestically made modules and maximum power density. Silfab's 100% North American based team leverages just-in-time manufacturing to deliver unparalleled service, on-time delivery and flexible project solutions. Silfab has already become deeply rooted and integrated within the North American community. As their commitment, Silfab works very closely in collaboration with other companies and institutions to research and develop future products that directly benefit business partners and customers. Silfab has numerous commercial and research agreements allowing them to test the latest, leading-edge and commercially viable technologies integrated into their solar panels and incorporate into the future evolution of their North American manufacturing processes.
The Silfab SIL-370 HC-PT Pallet of Solar Panel features 9-busbar technology that maximizes energy collection and conversion while high-efficiency, half-cell design improves performance and durability. The SIL-370 HC-PT Pallet of Solar Panel is all-black, dependable, durable, high-performing panel which is ideal for ground-mount or roof-top installations where maximum power and aesthetics are preferred.
100% North American – Quality Matters
Silfab's fully-automated manufacturing facility ensures precision engineering is applied at every stage. Superior reliability and performance combine to produce one of the highest quality modules with the lowest defect rate in the industry.
North American – Customized Service
Silfab's 100% North American based team leverages just-in-time manufacturing to deliver unparalleled service, on-time delivery and flexible project solutions.
Features
ENSURES MAXIMUM EFFICIENCY- 60 of the highest efficiency, premium quality half monocrystalline cells result in a maximum power rating of 370Wp.
ADVANCED PERFORMANCE WARRANTY - 30-year linear power performance guarantee to 82.6%
ENHANCED PRODUCT WARRANTY - 12-year product and workmanship warranty
BUILT BY INDUSTRY EXPERTS - With over 40 years of industry experience, Silfab's technical team are pioneers in PV technology and are dedicated to an innovative approach that provides superior manufacturing processes including: infra-red cell sorting, glass washing, automated soldering and meticulous cell alignment.
POSITIVE TOLERANCE - (-0/+5W) All positive module sorting insures maximum performance
LIGHT AND DURABLE - Over-engineered to weather low load bearing structures up to 5400 Pa. Light-weight frame exclusively designed with wide-ranging racking compatibility and durability.
PID RESISTANT - Proven in accordance to IEC 62804-1
Silfab Modules Qualify for Buy America Act - BAA Silfab Solar Inc.'s premium quality, high efficiency solar PV modules [manufactured in Ontario Canada] qualify as "American" goods that meet the requirements of the Trade Agreements Act (TAA) making it possible for our partners to contract business with US government agencies and educational institutions purchasing with government funds. TAA compliance applies to Silfab Solar modules SLA & SLG certifying that these products qualify as being substantially transformed in an approved country deeming them acceptable under the American Recovery and Reinvestment Act (ARRA) of 2009 and the Buy America Act (BAA) of 1933.Silfab Solar Inc. products sold and marketed in the United States are compliant with the Trade Agreement Act (TAA) of 2012 having been manufactured and substantially transformed under the North American Free Trade Agreement countries.
The specifications document is loading.
Generally all of our products are in stock and ready to ship within 2 business days.
If an item you ordered is out of stock, we will contact you within 1 business day with an expected ship date. You will then have the option to accept the new ship date or cancel your order.
Either way, we guarantee your card will never be charged until your order ships.