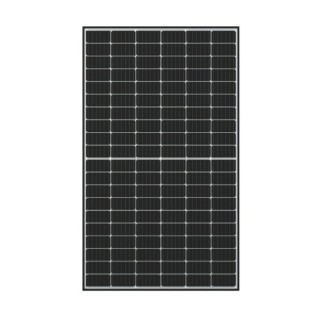 Panasonic EverVolt EVPV370-PT Solar Panel Pallet
33ea Min Purchase, 370W, MC4, 30mm Black Frame, White Backsheet, 120 ½ HIT Cell, 25A Fuse, 1000VDC, 351.8W PTC
---
Item # 1120-179
---
Panasonic Pallet Savings
Save even more on RES Supply's every day low Panasonic prices by purchasing a pallet. Or purchase multiple pallets to take advantage of our low $149 flat rate shipping. If you need assistance selecting additional parts for your system, add our design service – free with a full system purchase. We can even help with the permit process when you order one of our permit packages. Our great service combined with the low price on the VBHN330SA17-PT Pallet is a value that can't be beat.
EverVolt EVPV370-PT Pallet
Panasonic has been a solar pioneer since the beginning of the green revolution. Starting over 40 years ago with the research and development of amorphous silicon solar cell in 1975. In 1997, HIT® (Heterojunction Intrinsic Thin-layer technology) set the industry standard for conversion efficiency. Satisfied customers worldwide have come to trust and rely on Panasonic quality ever since.
The all new Panasonic EverVolt EVPV370-PT uses half-cut cells with heterojunction technology to maximize sunlight conversion and energy yield. Heterojunction cells have been continuously breaking records of efficiency and performance at high temperatures. In fact, this latest design produces a superior module efficiency of 20.6%. The increased power production provided by the higher module efficiency means less roof space is needed when compared to conventionally designed panels.
The Panasonic EverVolt EVPV370-PT is also guaranteed to have a power output of at least 92% after 25 years. So not only will your Panasonic solar panels occupy less space than the competition, but it will generate more power over the life of the system with the industry's lowest annual degradation rate.
The Panasonic Advantage
Higher Efficiency 20.6%
Enables higher power output and greater energy yields. HIT® provides maximum production for your limited roof space.
High Efficiency at High Temperatures
As temperature increases, HIT® continues to perform at high levels due to the industry leading temperature coefficient of -0.26% /°C. No other module even comes close to this temperature characteristic. That means more energy throughout the day.
Quality and Reliability
As a solar pioneer for over 40 years, Panasonic EverVolt solar panels are backed by innovation, experience and a brand you can trust. Panasonic's vertical integration, 20 years of experience manufacturing HIT® and 20 internal tests beyond those mandated by current standards provides extreme quality assurance.
Heterojunction Cell Technology
Half-cut cells with heterojunction technology minimizes electron loss, maximizes conversion efficiency, and produces considerably higher power output over conventional panels.
Low Degradation
EverVolt HIT cells have extremely low Light Induced Degradation (LID) and zero Potential Induced Degradation (PID) which supports reliability and longevity. This technology reduces annual degradation to 0.25% and generates a guaranteed power output of 92% after 25 years - far greater than other companies.
Improved Performance When Shaded
Continuous power production in shaded areas for greater energy yields and output. More sunlight absorption means more clean power to your home.
25 Year Product and Performance Warranty**
A long-term warranty is only as reliable as the company behind it. AllGuard and TripleGuard covers EverVolt panels for performance, product, parts and labor for 25 years. Whether in year three or year 25, your Panasonic warranty will be there in the unlikely event you need it.**
** Equipment must be installed by a Panasonic Authorized, Premium, or Elite installer and registered at na.panasonic.com/us/form/product-registration-solar-form within 60 days in order to receive twenty-five (25) year AllGuard and TripleGuard warranty. Otherwise, Product Workmanship will only be fifteen (15) years.
The specifications document is loading.
Generally all of our products are in stock and ready to ship within 2 business days.
If an item you ordered is out of stock, we will contact you within 1 business day with an expected ship date. You will then have the option to accept the new ship date or cancel your order.
Either way, we guarantee your card will never be charged until your order ships.