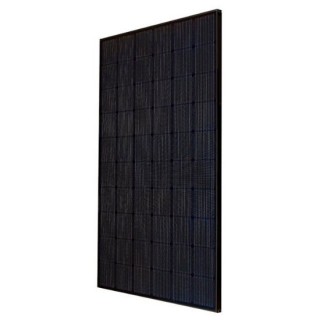 LG Solar LG335N1K-V5-PT Solar Panel Pallet
25ea Min Purchase, 335W, MC4, 40mm Black Frame, Black Backsheet, 60 NeON2 Cell Mono, 20A Fuse, 1000VDC, 308.3W PTC
---
Item #

1120-116
---
LG Solar Pallet Savings
Save even more on RES Supply's every day low LG Solar prices by purchasing a pallet. Or purchase multiple pallets to take advantage of our low $149 flat rate shipping. If you need assistance selecting additional parts for your system, add our design service – free with a full system purchase. We can even help with the permit process when you order one of our permit packages. Our great service combined with the low price on the LG335N1K-V5-PT Pallet is a value that can't be beat.
LG335N1K-V5-PT Pallet
High Efficiency LG NeON™ 2 Black Module Cells: 6 x 10, Module Efficiency 19.6%, Connector Type: MC4, IP67
LG Solar's newest V5-Series module NeON™ 2 Black is the LG335N1K-V5-PT Pallet. It is an aesthetically pleasing, all black panel which is produced with LG's Cello Technology™ (Cell connection with Electrically Low loss, Low stress and Optical absorption enhancement) which increases power output and improves appearance of the cells. This technology provides an extremely space-efficient connection with 12 wires instead of 3 ribbons. The distance between these wires is also shortened which reduces electrical loss by increasing the number of electrical paths in the cell. Another great feature of the LG335N1K-V5-PT Pallet is the double-sided cell structure that allows the panel to produce energy from both the front and back of the cell allowing for increased light absorption over conventional cells in competitor panels. All of these features help this panel achieve a higher power output with just 60 cells than its 72 cell counterparts, making it easy to manage space when installing larger systems. The NeON™ 2 Black also provides a striking visual appearance, which when paired with enhanced warranty, durability and performance under real environmental conditions make it a suitable choice for any project.
Features
Enhanced Performance Warranty - LG NeON™ 2 has an enhanced performance warranty. The annual degradation has fallen from -0.6%/yr to -0.55%/yr. Even after 25 years, the cell guarantees 1.2% more output than the previous NeON™ modules.
Aesthetic Roof - LG NeON™ 2 has been designed with aesthetics in mind; thinner wires that appear all black at a distance. The product may increase the value of a property with its modern design.
Better Performance on a Sunny Day - LG NeON™ 2 now performs better on sunny days thanks to its improved temperature coefficiency.
High Power Output - Compared with previous models, the LG NeON™ 2 has been designed to significantly enhance its output efficiency, thereby making it efficient even in limited space.
Outstanding Durability - With its newly reinforced frame design, LG has extended the warranty of the NeON™ 2 for an additional 2 years. Additionally, LG NeON™ 2 can endure a front load up to 6000 Pa, and a rear load up to 5400 Pa.
Double-Sided Cell Structure - The rear of the cell used in LG NeON™ 2 will contribute to generation, just like the front; the light beam reflected from the rear of the module is reabsorbed to generate a great amount of additional power.
Benefits of LG NeON™ 2 Cello Technology
With more than 50 years of experience as a global pioneer in electronics technology, LG Electronics stands ready to harness the power of the sun for you. Backed by 25 years of intense research and development far surpassing industry standards, LG Solar's photovoltaic modules are uniquely designed to offer the superior quality, field tested performance, durability and reliability customers over the world have come to expect from LG. LG Electronics is a global player who has been committed to expanding its capacity, based on solar energy business as its future growth engine. They embarked on a solar energy source research program in 1985, supported by LG Group's rich experience in semi-conductor, LCD, chemistry and materials industry. They also successfully released the first Mono X® series to the market in 2010, which were exported to 32 countries in the following 2 years, thereafter. In 2013, 2015 & 2016, LG NeON™ (previously known as Mono X® NeON) and NeON™2 won "Intersolar Award", which proved LG is the leader of innovation in the industry.
The specifications document is loading.
Generally all of our products are in stock and ready to ship within 2 business days.
If an item you ordered is out of stock, we will contact you within 1 business day with an expected ship date. You will then have the option to accept the new ship date or cancel your order.
Either way, we guarantee your card will never be charged until your order ships.