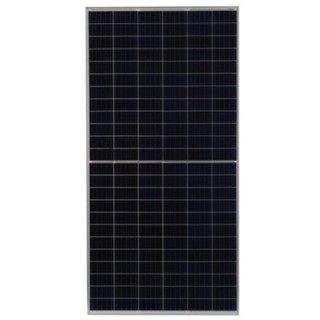 JA Solar JAM72S10-410/MR-PT Solar Panel Pallet
27ea Min Purchase, 410W, MC4, 40mm Clear Frame, White Backsheet, 144 Half Cell Mono-PERC, 20A Fuse, 1500VDC, 384.1W PTC, COMING SOON - ETA DECEMBER.
---
Item # 1120-159
This item is only available for deliveries east of the Mississippi River.
---
Currently out of stock, but accepting pre-orders. We anticipate having inventory available by DECEMBER.
JA Solar Pallet Savings
Save even more on RES Supply's every day low JA Solar prices by purchasing a pallet. Or purchase multiple pallets to take advantage of our low $149 flat rate shipping.
JAM72S10-410/MR-PT Pallet
JA Solar's JAM72S10-410/MR-PT Pallet of modules are powered by high-efficiency Mono-PERC cells. They include a five busbar cell design, which improves low light performance. S10 module dimensions are slightly larger than the previous S09 Series and they also have a mid-mounted, split J-Box technology. The half-cell configuration of the JAM72S10-410/MR-PT Pallet offers the advantages of higher power output, better temperature-dependent performance, reduced shading effect on the energy generation, lower risk of hot spot, as well as enhanced tolerance for mechanical loading.
Features
20.9% Efficient
12 year product and 25 linear power output warranty
Substantial 40mm frame with 2400Pa wind load and 5400Pa snow load.
Founded in 2005, JA Solar is a manufacturer of high-performance photovoltaic products. With 12 manufacturing bases and more than 20 branches around the world, the company's business covers silicon wafers, cells, modules and photovoltaic power stations. JA Solar products are available in 135 countries and regions and are used extensively in ground-mounted power plants, commercial & industrial rooftop PV systems and residential rooftop PV systems. With its advantages of continuous technological innovation, sound financial performance, and well-established global sales and service networks, JA Solar has been well received and highly recognized by clients from home and abroad. The company has been listed on Fortune China 500 and Global Top 500 New Energy Enterprises for several consecutive years.
The specifications document is loading.
Generally all of our products are in stock and ready to ship within 2 business days.
If an item you ordered is out of stock, we will contact you within 1 business day with an expected ship date. You will then have the option to accept the new ship date or cancel your order.
Either way, we guarantee your card will never be charged until your order ships.