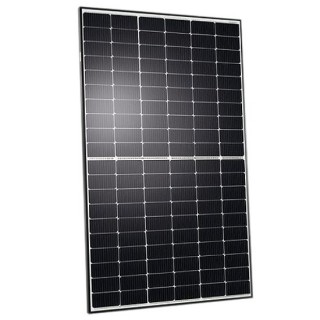 Hanwha Q CELLS Q.PEAK DUO-G7 320-PT Solar Panel Pallet
32ea Min Purchase, 320W, MC4 Compatible, PV Wire, 32mm Black Frame, White Backsheet, 120 Half Cell Q.ANTUM Mono, 20A Fuse, 1000VDC, 296.9W PTC
---
Item #

1120-004
---
Hanwha Q CELLS Pallet Savings
Save even more on RES Supply's every day low Q CELL prices by purchasing a pallet. Or purchase multiple pallets to take advantage of our low $149 flat rate shipping. If you need assistance selecting additional parts for your system, add our design service – free with a full system purchase. We can even help with the permit process when you order one of our permit packages. Our great service combined with the low price on the Q.PEAK DUO-G7 320-PT Pallet is a value that can't be beat.
Q.PEAK DUO-G7 320-PT Pallet
The Q.PEAK DUO-G7 320-PT Pallet solar module provides impressive performance in smaller areas due to Q CELLS inventive Q.ANTUM DUO Technology. They have now combined the this technology with state-of-the-art circuitry, half cells and a 6 busbar design which will provide your project with unsurpassed performance even with low-intensity solar radiation and hot, clear summer days and during fall and winter days when the sun is low in the sky. The combination of these technologies provides an efficiency rating on the Q.PEAK DUO-G7 320-PT Pallet of 19.0%
The Q.ANTUM technology is based on Passivated Emitter Rear Cell (PERC) technology. PERC, by all means, allows for the passivation of the solar cell´s rear side, which involves installing a reflective layer, designed to capture previously unused sunlight back into the cell where it can be converted into solar electricity. The rear surfaces of Q.ANTUM solar cells are treated with a special nano coating that functions much like a typical household mirror. Rays of sunlight that would otherwise go to waste are reflected back through the cell to generate more electricity. Laser-fired contacts complement the nano coating to enhance the module's electrical properties, increasing its efficiency considerably.
Features
6 Busbar Technology - Shorter distance in between the busbars along with additional paths for electric current results in 1% power increase. More paths means lower congestion which in return reduces resitive losses.
Half-Cell Technology - Cutting the cell in half, halves the current. When combined with a module layout which reduces the distance traveled by the electric current you can anticipate a 3% power increase. Two half cells with 6 busbars have the same or even greater output as a full cell with 12 busbars. The upper and lower module sections can operate independently, reducing the impact of shading and also contributing to energy yields.
Wire Interconnection - Utilizing wires instead of flat ribbons will reduce both the width and the effective shading width. The light reflected from the round shape of the wires improves the light capturing effect of the module. This deceases shading by 75% thereby increasing power generation by 2.5%. The light reflected from the round shape of the wires improves the light capturing effect of the module.
Enphaced Temperature Coefficient - Low internal current from Q.ANTUM DUO architecture also reduces resistive losses at higher temperatures, further improving energy yields.
Best-In-Class Warranty - Low initial degradation from Anti LID and low yearly degradation from Q.ANTUM DUO allows Q CELLS to provide a 12-year product and 25-year linear performance warranty with 85% of initial performance in year 25.
Extreme Weather Rating - High-tech aluminium alloy frame, certified for high snow (5400 Pa) and wind loads (4000 Pa).
The specifications document is loading.
Generally all of our products are in stock and ready to ship within 2 business days.
If an item you ordered is out of stock, we will contact you within 1 business day with an expected ship date. You will then have the option to accept the new ship date or cancel your order.
Either way, we guarantee your card will never be charged until your order ships.