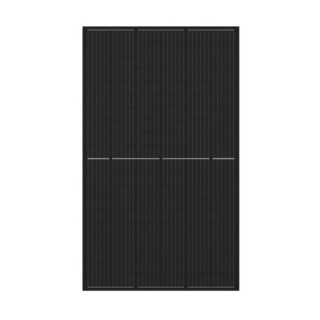 Hanwha Q CELLS Q.PEAK DUO BLK ML-G10+ 395-PT Solar Panel Pallet
32ea Min Purchase, 395W, MC4, 32mm Black Frame, Black Backsheet, 132 Cell Mono, 20A Fuse, 1000VDC, 366.7W PTC
---
Item # 1120-167
This item is only available for deliveries east of the Mississippi River.
---
Hanwha Q CELLS Pallet Savings
Save even more on RES Supply's every day low Q CELL prices by purchasing a pallet. Or purchase multiple pallets to take advantage of our low $149 flat rate shipping. If you need assistance selecting additional parts for your system, add our design service – free with a full system purchase. We can even help with the permit process when you order one of our permit packages. Our great service combined with the low price on the Q.PEAK DUO BLK ML-G10+ 395-PT Pallet is a value that can't be beat.
Hanwha Q CELLS Q.PEAK DUO BLK ML-G10+ 395-PT Solar Panel Pallet, 32ea Min Purchase, 395W, MC4, 32mm Black Frame, Black Backsheet, 132 Cell Mono, 20A Fuse, 1000VDC, 366.7W PTC
The Q.PEAK DUO BLK ML-G10+ 395-PT features cells powered by Q CELLS' zero-gap Q.ANTUM DUO Z Technology, offering higher module power density and improved all-black aesthetics. By eliminating the gaps between cells, module efficiency is increased in relative terms by 4%, delivering an overall efficiency of up to 20.9%. The number of cells contained within the module are increased from 120 half-cells to 132 half-cells. The module is also backed by a 25-year product and performance warranty that guarantees at least 86% of the initial power after 25 years.
The newest, high-performance Q.ANTUM DUO solar module Q.PEAK DUO BLK ML-G10+ 395-PT is the ideal solution for rooftop arrays on residential buildings thanks to a combination of the innovative cell technology Q.ANTUM DUO and cutting edge cell interconnection. Only Q CELLS offers German engineering quality combined with long-term yield security using Anti LID Technology, Anti PID Technology, Hot-Spot Protect and Traceable Quality Tra.Q™.
Q.ANTUM DUO Technology reduces both electrical and optical losses by halving the current passing through each cell while making use of incident light more effectively. Q CELLS decided to focus on all of the key determinants of performance, not just the ones that make their data sheets look good. By enhancing low-light performance and also the output of the modules across a range of temperatures, you will be sure to achieve higher profits.
Features
BREAKING THE 20% EFFICIENCY BARRIER
Q.ANTUM DUO Z Technology with zero gap cell layout boosts module efficiency up to 20.9 %.
THE MOST THOROUGH TESTING PROGRAM IN THE INDUSTRY
Q CELLS is the first solar module manufacturer to pass the most comprehensive quality program in the industry: The new "Quality Controlled PV" of the independent certification institute TÜV Rheinland.
INNOVATIVE ALL-WEATHER TECHNOLOGY
Optimal yields, whatever the weather with excellent low-light and temperature behavior.
ENDURING HIGH PERFORMANCE
Long-term yield security with Anti LID Technology, Anti PID Technology, Hot-Spot Protect and Traceable Quality Tra.Q™. (APT test conditions according to IEC / TS 62804-1:2015, method A: −1500 V, 96 h)
EXTREME WEATHER RATING
High-tech aluminum alloy frame, certified for high snow (5400 Pa) and wind loads (4000 Pa).
A RELIABLE INVESTMENT
Inclusive 25-year product warranty and 25-year linear performance warranty. (See data sheet for further information.)
The specifications document is loading.
Generally all of our products are in stock and ready to ship within 2 business days.
If an item you ordered is out of stock, we will contact you within 1 business day with an expected ship date. You will then have the option to accept the new ship date or cancel your order.
Either way, we guarantee your card will never be charged until your order ships.